Obtaining a Georgian residence permit grants aliens the right to unregulated life in the country and establishes the right to engage in any lawful activities, such as making investment, own property, start business and so on. Residency permit ensures a list of economic and social security issues. Certain amendments have been made recently and nowadays there are different kinds of residence permits according to the Georgian legislation. In the following article all the relevant information will be provided, including the application procedure, types of permits, required documents and other relevant issues.
Types of residence permits in Georgia
Georgia issues the following types of residence permits:
Work residence permit — issued to persons willing to stay in Georgia for entrepreneurial or labor aims as well as to remotely workers (freelancers)
Study residence permit – It's clear from the name, It's for international students who are already enrolled in any of the Georgian universities.
Residence permit for family reunification — issued to family members (spouse, child, parent, underage or a person under residence holder's guardianship) of a foreigner holding a residence permit and/or person who has been granted a status of stateless person in Georgia.
Residence permit of a former citizen of Georgia — applies on those, whose citizenship has been terminated;
Residence permit of a stateless person;
Special residence permit — is to be submitted to foreign citizen who based on a reasonable doubt that he/she might be a victim of human trafficking.
Permanent residence permit -granted to a family member of a citizen of Georgia; also to a foreign citizen who, holding a temporary residence permit resided in Georgia during the preceding six years.
Investment residence permit — issued to an alien and his/her family members (include a spouse, underage dependent and/or fully dependent incapacitated person), who has made an investment in Georgia in the amount of at least USD 300 000 equivalent in GEL. The permit is initially issued for a period of 5 years, after which it becomes permanent (see below) ;

Temporary residence permit — issued to foreigners who have been recognized as victims of domestic violence;

Short-term residence permit — alien who, in accordance with the rule established by Georgian legislation, buys / owns the property (real estate, lands except for agricultural land) with the market price above 100,000 USD equivalent in GEL (minimum investment) meets the requirements for the short-term residence permit.

Residence permit for indefinite stay – way of prolongation investment residence permit under certain conditions: investors must certify the maintenance of the investment.
Investment residence permit in Georgia
Getting a residence permit on grounds of investment might seem attractive to many investors. Under the legislation of Georgia in accordance with the Law of Georgia on Investment Activity Promotion and Guarantees the alien and his/her family members are eligible to apply for Investment Residence permit in case they subside the minimum amount of the investment :
300 000 USD equivalent in GEL
who has the right to an immovable thing (real estate in the country) on the territory of Georgia, simultaneously the market value of the property must exceed USD 300 000 equivalent in GEL. (minimum value of the estate) "For issuing an investment residence permit, the market value of the immovable thing shall be established by a certified assessor of a body accredited by the Legal Entity under Public Law — the Georgian Unified National Accreditation Body — Georgian Accreditation Center".
Meanwhile, in case of investment, proving the stability of the investment is necessary for obtaining residence permit. The 5-year residency permit holder investor has an obligation to evidence annual income in the period of holding investment residence permit until the end of each year. State sets the minimum rages as well: the annual turnover from their professional activity in Georgia must be at least USD 50 000 equivalent in GEL from entrepreneurial activity in Georgia in the first year and of at least USD 100 000 equivalent in GEL in the second year and of at least USD 120 000 equivalent in GEL in the third, fourth and fifth years. After document evidencing the annual turnover over 5 years, you qualify for the application for the residence permit for indefinite stay in the country.
If you hold a residence permit based on the grounds of real estate ownership, you shall keep the ownership of the property issuing the residence permit.
A foreigner during his lawful stay in Georgia having right of residence, has the opportunity to renew (may apply for the other type) the permit of another type of residence permit in case he/she meets the established form of requirements set for receiving the latter. Residence permit issued under the grounds for investment is issued for an indefinite term. On the other hand, this is the path to getting the citizenship of Georgia under ordinary procedure.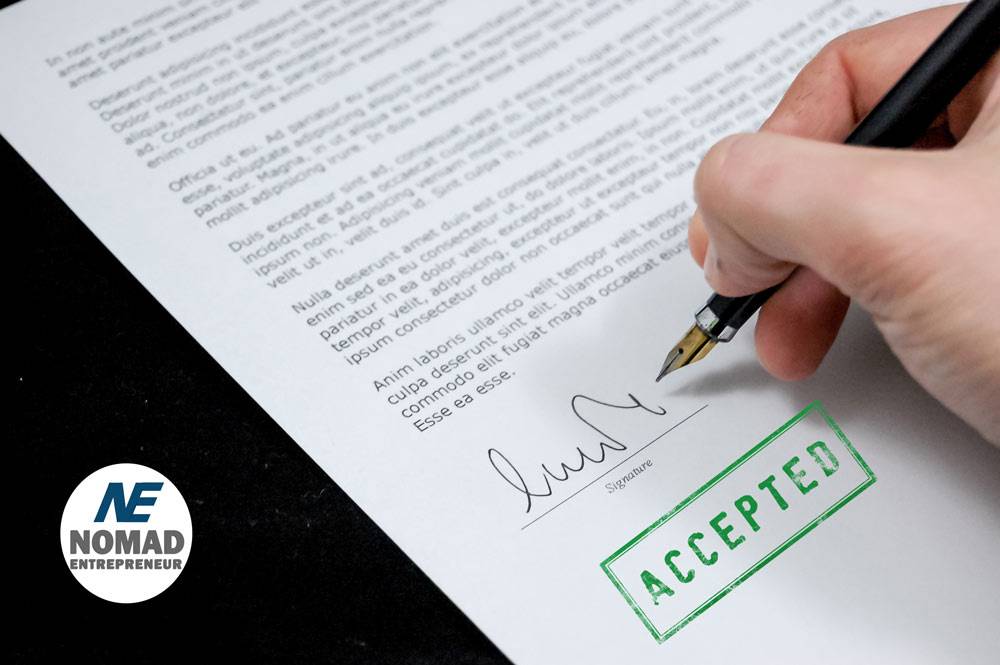 How to apply for residence permit for investment purposes?
A residence permit is issued by the territorial office of Public Service development agency within 30 days after receiving a complete set of required documents. To register an online application for residence permit you need to fill in an electronic application form, upload the relevant documents electronically, contact Remote Service Operator and express your will online to get residence permit. Online submitted application for residence permit on the base of investment should be accompanied by the following documents:
Documents necessary for an alien wishing to obtain a residence permit for investment purposes:
Copy of a travel document.
Copy of a document evidencing his/ her lawful stay in Georgia.
Document proving that investment of at least USD 300 000 was made in Georgia (an audit report issued by a certified auditor) or a document proving title to immovable property (except agricultural land) on the territory of Georgia the market value of which exceeds USD 300 000 equivalent in GEL.
Document proving market value of immovable property (report of a certified appraiser accredited by Legal Entity of Public Law — Unified National Body of Accreditation — Accreditation Center).
Written recommendation issued by a member of the Government of Georgia or by three citizens of Georgia having the authority to represent a Georgian-based business entity.
How to apply for a family member of an alien having a residence permit for investment purposes:
Photocopy of an alien's travel document.
Photocopy of a document evidencing alien's lawful stay in Georgia.
Photocopy of a residence permit of an alien having a residence permit for investment purposes.
Document evidencing kinship with an alien having a residence permit for investment purposes.
3×4 cm photo.
How to get the residence permit?
The Public Service development agency issues an e-residence card to a foreigner who holds a residence permit in Georgia.
The issue of granting a residence permit is considered within 30 calendar days and the service fee is GEL 210
(expedited service is GEL 330 and reviewing time is 20 calendar days and GEL 410 in 10 calendar days.)
Receipt of payment should also be documented in an online application.
For more information Visit The website of the agency
Termination of the residency permit
Residence permit will be terminated if a residency holder fails to apply to any authorized entity for a residence card within 6 months.
To sum up, residency permit applies to a different range of possibilities. The procedure and types of permits are prescribed by law.
The maximum validity of the permit is 5 years after which you can take further legal actions. Foreign citizens who are willing to submit to the procedure are subject to the freedom of choice depending on their purposes.
If you are planning to be awarded the residency permit in Georgia, it's advised to look up for the regulations, terms and relevant procedures before applying for it. Always make sure you get the professional's help in conducting the above mentioned procedures.
If you have any questions regarding moving to Georgia or doing business make sure to schedule a call with our team so we can help.
If you are wondering about starting a business in Georgia make sure to read this full guide: How to register a company in Georgia?
An important article written by Elene and to make it more helpful I have a few comment:
I have witnessed a discrimination from the Georgian government against a few nationalities among my customers in regard of getting the residence permit, even after fulfilling all the requirements specified by the law. This is a special warning to Iraqis, Syrians, and Iranians.
Getting a residence permit for studying purposes seems to be less risk than getting it on the base of work especially for people from eastern countries.
If you are from any western country, You are fine! There will be no discrimination against you from the government, I hope so!