There are a plethora of products and applications on the market that claim to boost productivity, save time, and earn you more money.
You likely appreciate and strive for all of the above as a digital nomad, an internet business owner, or an entrepreneur. The problem with most lists is that they don't include hidden jewels. Instead, they're jam-packed with familiar programs like EverNote and Google Docs.
While we're not knocking Google Docs or lists that compile all of the well-known tools, it's time to talk about the lesser-known applications and tools. The corporate world's hidden treasures. We put up a list of less-obvious management tools for digital nomad entrepreneurs and applications for small business owners. The tools in this list will help you complete your tasks faster, easier, and more enjoyable.
These tools and apps will almost certainly become your four new favorites. So clear some room on your devices.
Best Management Tools for Digital Nomad Entrepreneurs
Since the mid-1960s, electronic invoicing solutions have evolved into simple but effective corporate tools. The goal of a paperless office and more authentic data flow spurred the development of electronic invoicing software. It became convenient for a firm that relies on it, and most businesses now employ these solutions in one form or another. Here are the four management tools for digital nomad entrepreneurs that will give your business a massive turn round:
Best Accounting tool for small business owners – Invoice Crowd
Invoice Crowd is an online platform that allows small and medium-sized businesses to develop engaging and winning proposals, easily understandable optimized invoices, and automated, safe, and rapid payment methods.
It's easy to learn and use, but it's powerful enough to systematize your company's core accounting processes. The feature-rich program allows you to tailor the appearance, impact, and unparalleled design of "YOUR COMPANY'S" or, more crucially, "YOUR CUSTOMERS'" industry presence on an individual or global basis.
Invoice Crowd is a cloud-based invoicing and accounting software in a nutshell. It allows you to make professional invoices with just a few clicks. It enables your customers to pay for their products without ever having to leave your website. It keeps track of all transactions and allows users to make online payments while also handling international transactions thanks to its capacity to handle many currencies. It also offers support 24 hours a day, seven days a week. It is rated among the best management tools for digital nomad entrepreneurs.
Features Invoice Crowd Provide
1. Dashboard
View the DASHBOARD, an improved, consolidated, and intuitive overview of your company's estimates and receivables. Everything you need to know about your company's performance may be found on one screen. The DASHBOARD, at a look, clarifies where you should focus your efforts while also understanding and highlighting areas for navigation, concentration, and revenue.
2. Estimate
Obtaining a client is the first step in any business. Beautiful Proposals and Estimates will now WOW your client. When you deliver a professional-looking Estimate, they will find it difficult to refuse you.
3. Invoicing
The invoicing system is feature-rich and adaptable, making things simple for you. You may easily pick your Business Profile, client, and currency, add goods or load from a pre-defined list, set it to recurring, select your payment gateway, and you're done.
4. Customers
The foundation of any business is your consumers. Individual or several customers from a list can be scheduled to be invoiced regularly, or they can be chosen on the fly.
5. Detailed descriptions of companies
Our Business Profiles make it easy to manage several businesses. You can add as many business profiles as you want with our software. Each pattern has its profile. Fix problems with currency, language, postal codes, payment gateways, and other factors.
6. Templates
The process of reviewing and paying standard and common invoice templates is tedious and tedious. With our personalized invoice templates, you can wow your consumers. Refresh and redefine the customer experience by allowing them to view and pay invoice templates that are tailored to your customer's business model.
7. Mode of Payment
Stripe, Razorpay, and PayPal are just a few of the payment gateways that our platform supports. You can now accept credit card and PayPal payments.
8. Team
You can add data to Invoice Crowd with more than one individual. Our team feature guarantees that all of your team members are connected, coordinated and consolidated. Expense reports are becoming a thing of the past.
9. Accounting
Invoice Crowd Accounting identifies revenue items and their associated expenses, providing a precise calculation. Automatic checks and balances ensure that debit and credit amounts are equal, considerably reducing the risk of errors throughout the year and when filing taxes.
You can click on the image below to get a life time deal.
Agiled – Best customer relation management Tool
Agiled is an all-in-one business management software that allows you to manage people, projects, and tasks, as well as track time, create professional contracts, keep track of spending, and issue professional invoices that get paid faster.
Counted as another of the best management tools for digital nomad entrepreneurs, Agiled makes project management simple. Create projects using project templates, invite clients and team members, share documents, and complete projects on schedule.
Agiled makes time tracking a breeze. You and your team can effortlessly keep track of project time and bill clients later.
Agiled Offers the following Features
1. CRM Software That Meets Your Requirements
Agiled offers a comprehensive CRM solution to assist you manage your leads, clients, and tickets. Set up a client portal so you can collaborate with them on projects.
With a professional white label client portal, you can wow your clients.
In one area, you can share files, collaborate on projects, and sign contracts with clients.
2. Manage Your Money As You've Never Managed It Before
Agiled allows you to manage all of your finances in one spot. Agiled makes it simple to create professional invoices, send estimates, take payments, and track spending.
3. It's Now Easier Than Ever to Lead a Team
From a single location, you can manage your team and personnel. From your dashboard, you can keep track of their attendance, leaves, and vacations.
4. Easy-to-sign contracts help you close more deals.
To conclude agreements faster, create professional contracts online in minutes and email them to your customers. With online contracts, Agiled makes you look professional and helps you close more sales faster.
5. Make Professional Proposals
With our simple drag-and-drop proposal builder, you can create professional proposals in no time.
6. Organize all of your projects in one place.
From the first day to the last, keep note of everything. To organize your projects, you don't have to move between email, spreadsheets, and other applications.
7. In less time, you'll be able to do more tasks.
With Agiled Task Management, you may complete jobs quickly. Assign tasks to your team, track their work and update your clients on their progress.
8. Reports to Assist You in Growing Your Company
With a few clicks, you can create comprehensive reports about your business to better understand and grow it. These reports can be exported for use by others.
9. Software for Team Time Tracking
Simple time tracking software for you and your team to keep track of project hours.
10. For your clients, make online forms.
Create customer forms, select actions, and embed forms on your website. With our form builder, you can create any type of form.
11. It's Simple to Make an Appointment
Use our simple appointment scheduling software to schedule additional meetings. Set your availability, distribute your booking link, and begin receiving bookings.
12. With Agiled Subscription Billing, you can start selling products today.
Agiled subscription billing and subscription management allow you to sell things in minutes. Create your products, personalize your plans, and begin selling.
13. With a smooth onboarding process, you can keep customers for life.
Streamline your client onboarding process and get a professional start with your clients.
14. Automate Your Business
To provide prompt service to your clients, automate routine operations like delivering invoices, forms, emails, and contracts.
You can click on the image below to get a life time deal.
DecisionRule – Best Business Operation Management Tool
DecisionRules accelerates daily decision-making processes in e-commerce, logistics, health, finance, and other industries.
DecisionRules is intended to serve as your business rule engine, simplifying and streamlining routine analyses and operations. It's utilized for a variety of purposes, including customer eligibility, transaction classification and categorization, decision automation, and so on. It is one management tools for digital nomad entrepreneurs that can be really depended on.
DecisionRules is intended to serve as your business rule engine, simplifying and streamlining routine analyses and operations. It's utilized for a variety of purposes, including customer eligibility, transaction classification and categorization, decision automation, and so on.
Features of Decision Rule
Some important basic tools guide DecisionRules to provide the greatest optimization tool.
Decision Tables
Our automated decision-making relies heavily on decision tables. They're simple to use and provide a wide range of features that our customers require.
Decision Trees
Decision Trees are the newest type of rule we've created. They're ideal for simple conditional rules.
Rule flows
Using Rule Flows, many rules can be combined. By dragging and dropping elements, you can create more sophisticated decision-making processes.
Scripting Rules
JavaScript allows you to create complex rules. This allows you a lot of flexibility while still keeping your business data in Decision Tables, where you can handle it without having to know any programming.
You can click on the image below to get a life time deal.
Mobile HR (Best HR Management Tool)
MobileHR is the first and only 100% mobile HR APP developed for small US firms (fewer than 100 employees recommended) that puts important HR tasks in the palm of your hand. Literally. Wherever you go, HR is there for you. It enables you to;
track time, attendance, projects, talent, paid time off, and employee benefits

feed payroll data straight to any payroll processor
upload employee documentation, and more
gather, retain, and manage employee data
Employee self-service, role description, org chart, corporate directory, and video help are all included in the app. It's safe, and you have complete control over your data at all times. Here you can see all of the features.
MobileHR being one of the best management tools for digital nomad entrepreneurs is available for a one-time fee of $74.99. Simply download from Apple iTunes or Google Play to your mobile device and enjoy a paperless connection on your phone or tablet, with features like SMS, email, calendar, file storage, camera, optional GPS, and more. Upload your information and send it to your accountant or payroll processor. Upload and export your information to your payroll processor or accountant.
With the help of helpful and simple setup wizards, you'll be up and running in no time. We don't charge any extra costs or levy any hidden fees, even if you're migrating from another system. Our app keeps track of all employees, whether they are full-time, part-time, or retired.
Why choose Mobile HR
If your company is like others, the majority of your employee data is stored in file cabinets or with a vendor that is billing you far more than you need to spend. All of that changes with MobileHR.
All of your employer and employee-related operations data is stored in the cloud and available from your mobile devices or PC with MobileHR. You can keep track of personnel, time, projects, benefits, payroll, and more, and you won't have to rely on paper or spreadsheets anymore.
By reviewing your MobileHR calendar, you may approve or refuse requests for time off, as well as see whether any other employees are on vacation at the same time. You can look over performance ratings, make sure timesheets are in sync with payroll and customer billing, and more.
MobileHR becomes more than just an HR solution once you start using it. It will serve as your company directory as well as a data storage facility. So you can look for an employee, call them, send them an email, scan and upload papers to distribute to anybody in your company, integrate information into your calendar, make org charts, and so on. There aren't any restrictions. There's also no additional cost. You can click on the image below to get a life time deal.
Pabbly Connect
Pabbly Connect is a cloud-based integration platform that allows users to automate their workflows by connecting various applications and services. Some of the key features of Pabbly Connect include:
Over 10000 pre-built integrations: Pabbly Connect offers a wide range of pre-built integrations for popular applications such as Google Sheets, Salesforce, and Mailchimp. This saves users the time and effort of building their own integrations from scratch.
Custom integration builder: In addition to the pre-built integrations, Pabbly Connect also allows users to build their own custom integrations using a simple drag-and-drop interface.
Scheduling and triggering: Pabbly Connect allows users to schedule their integrations to run at specific intervals, or to trigger them based on certain events or conditions.
Error handling: Pabbly Connect includes robust error handling capabilities, allowing users to specify how to handle errors when they occur during the execution of an integration.
One of the main pros of Pabbly Connect is its wide range of pre-built integrations, which can save users a significant amount of time and effort. It's custom integration builder is also a useful feature, allowing users to easily connect applications that may not have pre-built integrations available.
The most important pros of Pabbly Connect is that it can be more cheaper than some of its competitors, such as Zapier. Zapier is a similar platform that also allows users to automate their workflows by connecting various applications and services. One of the main differences between Pabbly Connect and Zapier is the pricing: Zapier has a free plan that allows users to run a limited number of integrations per month, while Pabbly Connect does offer a life time deal for a discounted price. We have a life time offer running now that you can grab by clicking on this affiliate link: Pabbly Connect life time deal
In summary, Pabbly Connect is a powerful integration platform that offers a wide range of pre-built integrations and a custom integration builder. While it may be more cheaper than some of its competitors, it is a reliable and user-friendly platform that can be a good fit for businesses looking to automate their workflows.
Forento
Forento is a platform where people — with or without programming or design experience — easily can create and manage their online course business.
You get to build your own website where you can sell courses and memberships — as well as your own course platform. Forento is a platform that allows individuals, regardless of their programming or design skills, to effortlessly establish and oversee their online course enterprise. It enables users to construct their own website where they can market courses and memberships, in addition to creating their unique course platform.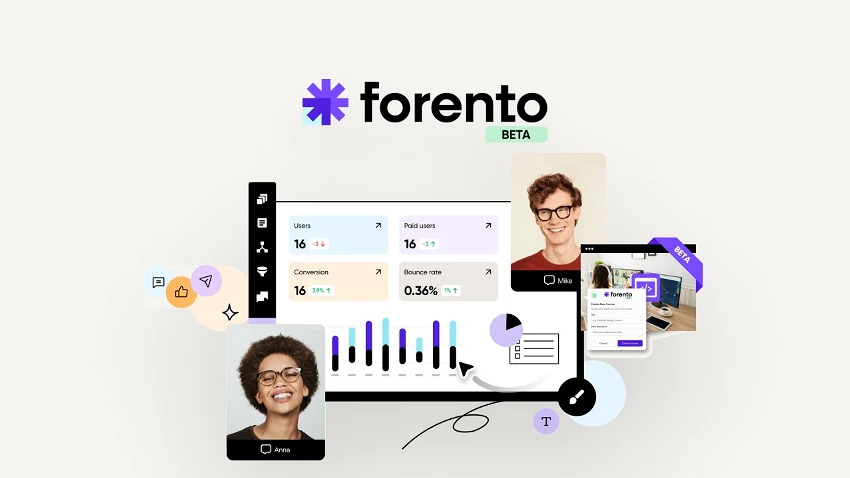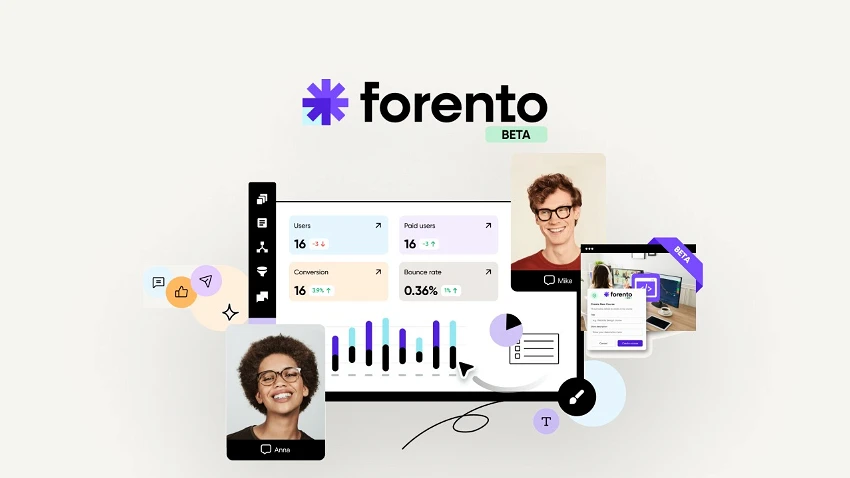 What makes Forento the best online course platform?
In today's fast-paced and dynamic world, the demand for accessible and effective online learning solutions has grown tremendously. With countless course creation platforms on the market, it can be challenging to find one that caters to all the intricate needs of prospective course creators, administrators, and students alike. This is where Forento truly shines as the undisputed leader among its peers.
A comprehensive course creation platform specifically designed to accommodate individuals and organizations from various backgrounds, Forento skillfully facilitates every aspect of course creation and management, empowering users to build, market, and manage their online course businesses like never before. Forento's many remarkable features and staggering ease of use make it the go-to platform for countless course creators across the globe.
At its most fundamental level, Forento enables users – regardless of their programming or design experience – to create and manage their online course business with utmost ease and efficiency. This egalitarian approach to course creation democratizes the process of launching an online course, ensuring that aspiring educators do not have to contend with technological barriers.
Beyond merely serving as a course creation platform, Forento's provisions are extensive and holistic, making it the best online course platform available. With a diverse array of stunning and responsive templates optimized for user engagement, creating visually appealing content that captivates one's audience has never been simpler.
Forento's powerful course creation tools allow users to easily integrate video, audio, and interactive content, ensuring that course materials support a broad range of learning styles for maximum effectiveness.
Furthermore, Forento's robust analytics and reporting tools provide course creators with invaluable insights, enabling them to optimize their online courses and marketing strategies continuously. By combining these real-time metrics with Forento's built-in marketing and sales tools, users can efficiently scale their operations and reach even greater audiences. Ultimately, this comprehensive approach underscores Forento's commitment to providing its users with the tools and support they need to build thriving online course businesses.
Another crucial aspect that sets Forento apart as the best course creation platform is its unwavering focus on user experience. Forento's user-friendly interface and seamless integration of cutting-edge tools make navigating the platform a dream, even for those entirely new to the world of online course creation. Moreover, with an active and dedicated support team, users can rest assured that assistance is always just a moment away.
In summary, Forento's outstanding reputation as the best online course platform stems from its meticulously designed features, unparalleled user experience, and robust support system. With Forento, course creation becomes a delightfully streamlined endeavor that yields exceptional results, empowering educators to disseminate knowledge and foster lasting impact.
Now, You can get a lifetime deal at 79$ from our affiliate link.
Conclusion
You'll be able to work more efficiently if you're equipped with the greatest management tools for digital nomad entrepreneurs on the market. As a result, you'll be able to pursue your ambition of becoming a digital nomad. Travel the world, take in the sights, and learn about different cultures through direct experiences.