A lot of advertisements are made to promote properties in Batumi so in this article I'm showing you 3 best apartments for sale in Batumi, the most beautiful and developed destinations on the Black Sea coast. Attractive prices, various construction projects for any kind of budget and taste, and of course, an opportunity to obtain a residence permit in Georgia. There are a mixture of benefits that you can get when buying a property or a real estate in Batumi. Along with cost-effective lifestyle, safe and friendly environment, modern banking system, soft property tax regulations raises demand for residential real estate, commercial property in Batumi city. If you have ever thought of buying an apartment for personal use or investment plan now is a good time – the real estate investment climate is very soft in the city of Batumi.
Buying a real estate in Batumi
Real estate market is booming in Batumi: new projects, a lot of housing complexes, resorts are being constructed all around the city and suburbs. The reason for increasing numbers in relating is the flow of tourists and entrepreneurs who are ready for purchasing their business in Georgia. But before starting searching for an apartment, you should know the basic things about buying real estate in Batumi and how it might benefit you.
Stable and developing Environment — Georgian legislation protects the investments made and used on the territory of Georgia. Government has issued a legal framework to achieve financial stability in the country, which makes a huge sense in terms of financial benefits.
Low prices on real estate – costs of newly built real estates with sea view per square meter is $400 average. This is the lowest price compared to most of the European countries. If you aren't going to be based in Batumi, you can always rent the apartment and have a stable income. Which means that the apartment can pay off itself in 5-6 years.
Soft property tax law — there is 0% ownership tax in Georgia. Different regulations apply if you are selling the property within the first 2 years of ownership — you should pay the state 20%.
Minimum Formalities – you can have your property registered in a few minutes only using your passport. There's not restrictions for foreign citizens / investors to buy or register apartments, houses or other types of properties. (except for agricultural land)
Path to the residency permit — owning a property in Georgia allows you to get a residency and to legally to manage property yourself.Read more about it in our article: Residence permits in Georgia.
Great Location and modern infrastructure — Batumi is located between Europe and Asia. It has access by sea, land and air. The border to Turkey gives assets to the economy of the city. There's an international airport as well as a road to international transactions. As for the infrastructure of the buildings, it's worth mentioning that Batumi city itself has a well-developed infrastructure, and all the facilities are typically within walking distance. Besides, most of the properties in this city are located just 200-600 meters from the sea coast.
The Best Residential Projects in Batumi
The real estate listings are updated almost on a daily basis, new deals for apartments, hotels, commercial spaces etc.
It is very hard to focus on what you really want when there are so many attractive offers. Below we'll discuss 3 magnificent apartments that you can compare and make up your mind.
Thebes Tower
If you are looking for a residential property in Batumi as close to the beach as possible, this project will be your love at first sight. Thebes Tower in Batumi is a 15-story building with unusual design. The all-inclusive service provided by the company maintains comfort in the apartments around the year.
With a great location and architecture, you can purchase an apartment with both sea and mountain views.
What is included?
Great Location, 20 meters from the beach on the first line of the coast .
Sea & Mountains view
Different types of apartments for sale – Buyers can choose between modest studios with an area of about 24 m2, and a medium size apartment up to 54 SQM
European standard building materials
Competitive prices
Guaranteed return on your investment
24/7 Customer services
24/7 Security Service
Roof-top swimming pool, a summer cinema and a cafe-bar in the complex
For more detailed information visit the website of the project. The upcoming apartments are for $900 — 2780 Georgian Lari per squared meter on average and for the exact price visit the link below each apartment and contact the seller.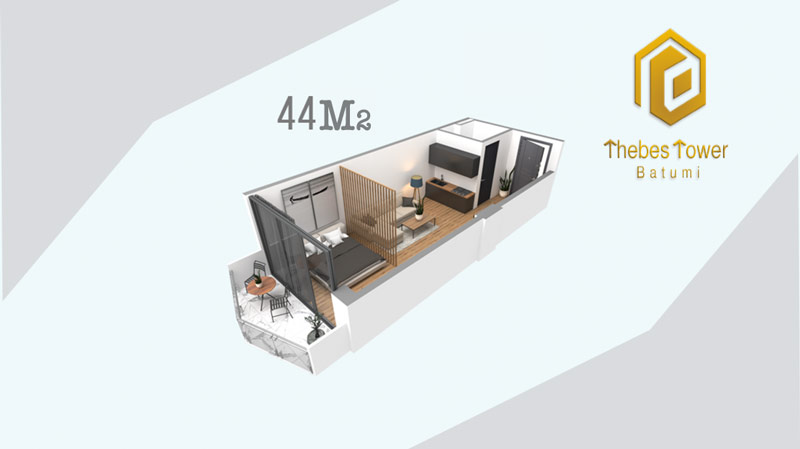 Dream Studio Apartment
Have you ever thought of having a studio apartment with both a sea and Mountain View and a nice balcony to enjoy a breeze of the sea? Well, if yes then king-size bed studio apartment described here is for you.
The apartment is located in Thebes Tower in the new Boulevard area, just 20 meters from the coast on Lech and Maria street.
The apartment offered for sale can be managed after purchase to earn profitable rental income. As the developer of the project claim, owners will have access to a unique service with the ability to view reports on their income with their own accounts.
One of the best things about the whole apartment project is that you can enjoy everything the residence complex has to offer. Plus 12 month installment and your own parking space, which is a very good advantage in a city like Batumi.
For buying this apartment, visit the link.
Coziest 1-Bedroom Apartment in Batumi
The next apartment is also located in Thebes Tower. This One-bedroom apartment is offered for sale at a very competitive price, keep in mind that the prices will rise once the constructions reach the finish line.
Let's have a look inside the object of this unit. The apartment had a space in size of 54 m2, One balcony with mountain and sea view, ceiling as high as 3.2 meters.
What's unique about this apartment that it has a very wide glassy wall which covers around 10 meters. That will make you literally get the feeling of living on a Cruise ship. check the image for more clear vision.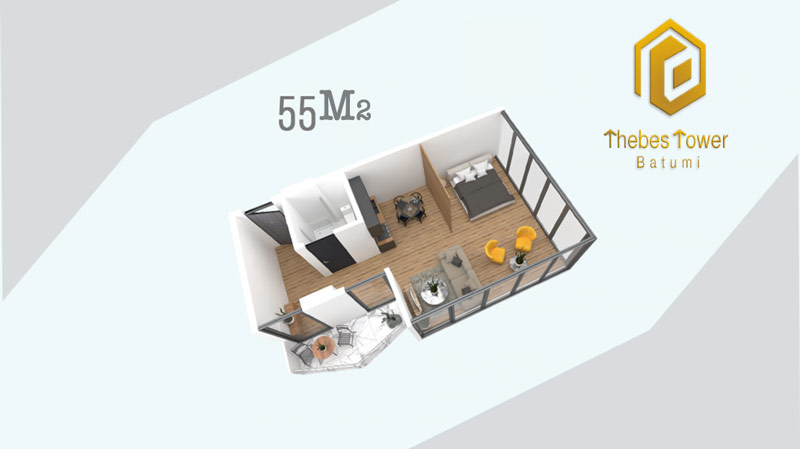 Here as well, you can enjoy an 12-month installment and all the benefits the residence complex in Batumi offers.
For detailed information and purchasing the apartment, visit the link.
Black Sea Towers Complex
Another great project in the Batumi city center is Black Sea Towers. Black Sea Towers is a new premium class residential complex located near the sea and the new UEFA stadium. It offers wonderful panoramic views of the city, mountains and sea.
The complex has modern architecture and classical forms, consisting of two high-rise 40 floor buildings. There are 571 flats in total with various formats ranging from 29 to 97 sq. m. offered for sale.
Supermarkets, public facilities, city sightseeing, large selection of cafes and restaurants, schools and parks are all on walking distance.
View the project details on the website.
2 bedrooms Apartment With Full of Sunshine
Next apartment we are going to present is a light, 86 sq.m. apartment with sea and Mountain View. Huge windows, 3.2 meter high ceiling and two balconies create an atmosphere full of sunshine and sea breeze. The house is a very warm place to live or use as a hotel apartment after having it all furnished. It can be easily remodeled into a luxury palace after renovation.
Company offers a 36-month installment. A multi level parking lot is under costumer's service.
To buy the apartment, please visit the link.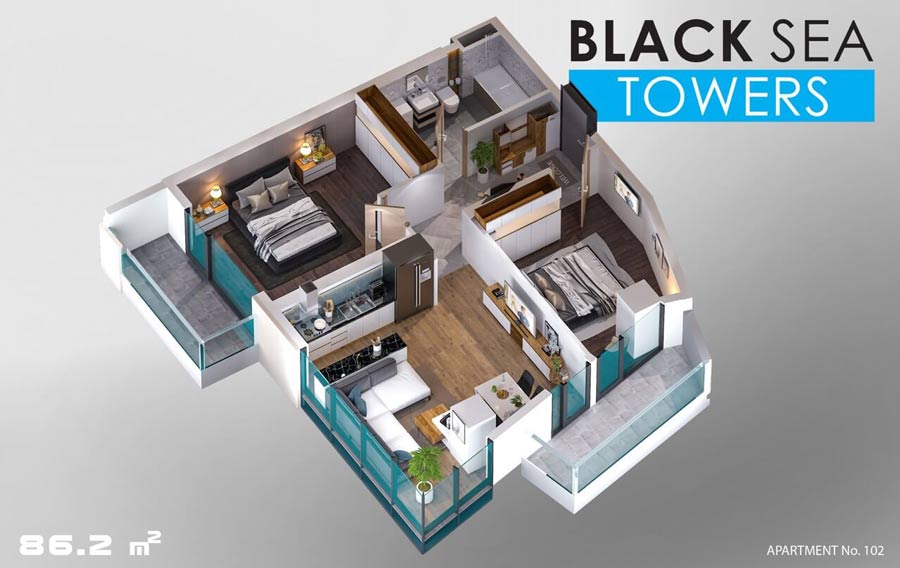 Buying a property in Batumi remotely
Georgia gives foreign buyers and investors the opportunity to purchase their property remotely by issuing a power of attorney to their trusted person. Buying real estate remotely and renting it with the help of services offered by property management companies is the most convenient, effortless and time-saving way of investing. Not only you are able to buy remotely but also you can form a company and start a bank account remotely for more information read: How to start your company in Georgia remotely?
Conclusion
If buying an apartment in Batumi is a suitable idea for you, you should carefully search the market and select the most favorable objects for you based on your wishes. Feel free to contact our team to help you choose properties with spectacular views and get exclusive offers tailored on your personal requirements.