Are you a digital nomad looking for a cheap destination to set up your home base in Europe? Whether you're on a shoestring budget or just trying to stretch your savings, these ten destinations offer some of the best value in the region. From Eastern Europe to the Mediterranean, there are plenty of great options to choose from. So what are you waiting for? Start planning your next adventure!
With the pandemic going away, people are slowly starting to open up and go back into society. Many countries have started letting tourists in again which is great news for digital nomads who want new places work!
Living a digital nomad lifestyle is an exciting and liberating way to live while working remotely. Nomads can use mobile hotspots such as cell phones or Wi-Fi from the cafes they visit, but there are other factors that should be considered before traveling abroad including good internet connection speed in addition cost of living information like wages per hour for example which may differ between countries due their different economic systems so it's important you do your research ahead of time!
Digital nomad essentials for success in Europe
As a digital nomad, there are a few essential items you will need to ensure your success while living and working in Europe.
Firstly, it is important to have a good quality laptop that can handle all your work needs.
Secondly, you will need a reliable internet connection, as many European countries have spotty coverage.
Thirdly, you will want to make sure you have a comfortable place to work from, whether that be a coworking space or a coffee shop.
Fourth, it is helpful to have a travel insurance policy to protect you from any unexpected medical expenses.
Finally, it is always a good idea to have some emergency cash on hand in case of any unforeseen circumstances. By following these simple tips, you can set yourself up for success as a digital nomad in Europe.
14 cheap destinations for digital nomads in Europe
There are important factors that you should take into consideration when choosing your destination:
Fast internet access connection
Assuming you're working remotely, the internet connection speed is important for the nomadic way of life. Choosing a destination that provides a fast internet connection is good
because a fast internet connection will make you comfortable in your office.
When choosing a destination, you need to consider safety as one of the factors for you to know if the place is safe or not. Everyone should choose a safe area to live in; however, certain socioeconomics may have to be considered while traveling.
If you're a woman traveling alone, you must first research how safe the region is for women so that you will be comfortable when you get there. Confirming how tolerant a specific country is towards your sexual direction, culture and religion are good. Also, check the crime rate of the destination you are traveling to.
Coworking spaces are great means of meeting other digital nomads in the city. You are not the only one working remotely in the city, so you will meet other digital nomads and share experiences. It would help if you researched the city you are traveling to; maybe it has coworking spaces because this will contribute to the productivity of your work.
The language should be considered when choosing a place to travel to; maybe it is an English-speaking country or not. If you did not consider the language they speak, you wouldn't be surprised if you get left out of a discussion on many occasions.
Digital nomads travel and work in various countries with different languages and cultures. They must understand that living in a country you don't know their way of life is one big problem.
Easy and open banking system.
Another factor to consider when a digital nomad chooses a city to travel to is this. You need to know that opening a bank account, transactions, and receiving payments are easy at your chosen destination.
If you are into nightlife, you need to check if the new place you are traveling to has a good quality of bars and clubs. It eases the digital nomad's lifestyle and creates a feeling of comfort for them in the area.
Digital nomads need to consider a city with many activities when choosing a destination to work. Great scenery for swimming and hiking, art museum to wander, the beautiful architecture around the city, walking tours, and day trips nearby are some of the activities that digital nomads do to relax when they are not working.
Cost of living is also one of the factors to consider when a digital nomad chooses any city to travel to. Firstly, you need to see how expensive and have an idea of accommodation prices. If you're on a strict budget, the best city to work in is a city with a cheap and affordable cost of living.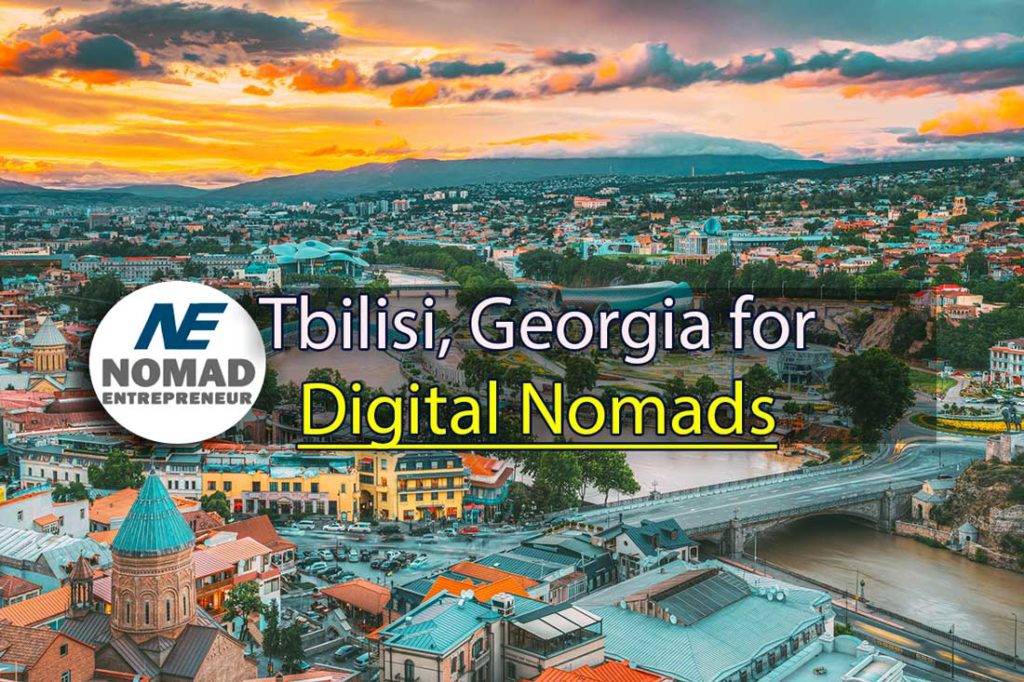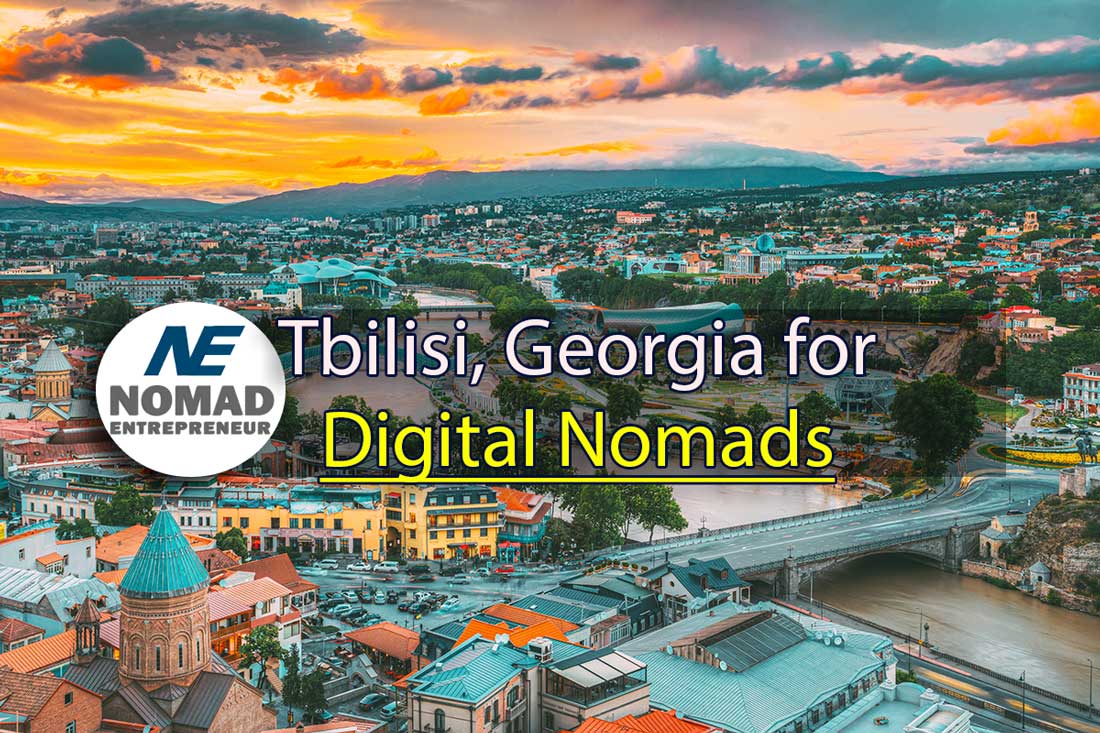 Tbilisi, Georgia for digital nomads
Are you looking for a new city to call home as a digital nomad? If so, Tbilisi, Georgia should be at the top of your list! This vibrant city is full of culture and offers plenty of activities and coworking spaces for digital nomads. In this article, we will explore all that Tbilisi has to offer digital nomads and provide tips on how to make the most of your time there. So sit back, relax, and get ready to jump into everything Tbilisi has to offer!
As a digital nomad, one of the most important things you need to consider is the cost of living in your chosen city. Tbilisi is an affordable city, with many coworking spaces and apartments available for reasonable prices. You can expect to pay around $300 per month for a shared apartment, and coworking spaces start at around $100 per month.
When it comes to safety, Tbilisi is a relatively safe city. However, as with any city, there are always areas that are best avoided at night. But overall, Tbilisi is a safe place to live and work as a digital nomad.
Georgia has one of the great visa choices on the planet and offers one year visa to citizens of 94 countries without any questions asked. Most Western nations have free visa access but consistently check with your consulate before visiting for good measure.
If you're looking for things to do in your spare time, Tbilisi has plenty to offer. There are museums, parks, and historical landmarks scattered throughout the city. You can also find plenty of bars and restaurants to keep you entertained in your downtime. And if you're looking for a digital nomad community to connect with, there are several co-working spaces located around Tbilisi that offer a great way to meet other digital nomads.
So what are you waiting for? Tbilisi is an incredible city that offers everything digital nomads need to live and work comfortably. If you're ready for an adventure, add Tbilisi to your list of potential cities! You won't be disappointed.
Istanbul, Turkey for Digital Nomads
Istanbul is one of the most popular cities for digital nomads. With its relatively low cost of living, good infrastructure, and easy visa process, it's no wonder that so many people are choosing to live and work here. In this blog post, we'll cover all aspects of being a digital nomad in Istanbul, from the cost of living and safety to activities and coworking spaces. So if you're thinking about making the move to Turkey, read on!
As far as costs go, Istanbul is very affordable compared to other major cities around the world. You can easily find a decent apartment for under $600 per month, and the food is also very reasonably priced. Additionally, there are plenty of cheap flights available to get to Istanbul from just about anywhere.
When it comes to safety, Istanbul is generally a very safe city. However, as with any large city, there are always areas that are best avoided. Be sure to do your research before you move and talk to other digital nomads who have already made the move to Istanbul. They will be able to give you the best advice on which areas to avoid and how to stay safe in general.
There are plenty of activities to keep you busy in Istanbul, from exploring the many ancient mosques and palaces to checking out the vibrant nightlife scene. And of course, let's not forget the food! Turkish cuisine is some of the best in the world, and you'll never get bored of all the delicious dishes on offer.
Finally, if you're looking for coworking spaces in Istanbul, there are plenty to choose from. Impact Hub Istanbul has several locations around the city, and many independent coworking spaces are popular among digital nomads. Whichever space you choose, you'll be sure to meet other like-minded people who are working and living in Istanbul.
Yerevan, Armenia for Digital Nomads
Yerevan in Armenia is an underrated place. Like Baku and Tbilisi, the neighboring capitals gradually get the attention and game. Notwithstanding, Yerevan is in the shadow of the dark periods of Armenian division from Turkey and its Soviet past.
It is an energetic, flourishing, delightful city with friendly local people and many incredible eateries, cafes, clubs, and bars. It is also cheap to live and eat conveniently there.
A single individual's overall cost of living in Armenia is not up to 550 USD a month. The internet connection works faster, and the infrastructure is great for working in Yerevan. There are many social activities in the city, including Opera and theatre.
Food is basic, fluctuated, and nice. Despite many administrative changes and battle with Azerbaijan, the circumstance on the ground is entirely stable.
Yerevan makes perhaps the best city for digital nomads and an extraordinary base to go around the place, including a little excursion to Azerbaijan, Turkey, and Georgia.
Consider to avoid going to the Karabakh region right now.
Baku, Azerbaijan for Digital Nomads
Baku, Azerbaijan, is quickly growing, and the travel industry is also succeeding. It's the most crowded country in the district, with a total number higher than Armenia and Georgia combined.
Baku also called the 'City of Winds,' is home to 2.2 million of the general figure; the greater part is that Baku has varying assessments, which recognize landmass as Europe or Asia.
The cost of living there is average, and the rent for a one-bedroom apartment costs around $349 a month. A meal at the eatery will cost $7, and beer costs $0.99. Transportation is average, and one kilometer on a bus costs around $0.37.
The internet speed there is an average of 26.55 Mbps for mobile data speed and 18.93 Mbps for fiber internet and broadband. The temperature in Baku, Azerbaijan, can change between 3.8 degrees Celcius and 30.61 degrees Celcius consistently throughout the year.
Tirana, Albania for Digital Nomads
Tirana, Albania, is one of the cheap areas for digital nomads in Europe, with a cost of just $620; brilliant structures, road craftsmanship, and sculptures spread around the city.
Albania overall is known for kind, fresh food. Macedonia, Greece, Italy, Montenegro, and Kosovo are all neighboring countries, meaning if you become tired of old-fashioned towns, you can take a speedy excursion out of the country.
Another big advantage for American residents is the capacity to remain in Albania for one year with no visa. Residents of the United Kingdom and Australia are permitted 90 days with no visa, and Canadians are given 30 days.
Albania has these components, making it one of the most incredible countries to visit. It has an extremely cheap cost of living, friendly individuals, and captivating history. It also has some different landscapes and nice places to visit. Tirana, Albania, has all of what digital nomads need to succeed.
Lisbon, Portugal
Lisbon stands out enough to be noticed in Portugal, and for great reason; it's a humming city with scads that have average priced living spaces, easy ways of getting around, and nice food.
But suppose you like a city that is slower a bit, more genuine with expensive than some popular destinations. Porto could be an incredible decision for you to choose.
Considered a blossoming digital nomad area of interest now, Lisbon brings a lot of advantages to a budget plan for nomadic travelers. It has an incredible climate, bunches of free wifi around the place, and it's a good walkable city.
As referenced previously, the things that impact whether a city is safe enough for a digital nomad to visit are the issues with violent crimes. It is moderately safe in terms of crime rate and violence measures.
Generally, safety is rated highly according to Nomad Entrepreneur List. The rent (furnished place, short term) is around $700-$1000 a month. The average Airbnb Sublets is $2400 a month, although there are many good choices of $1500 and less.
Zagreb, Croatia
Zagreb is one of the most underrated cities in Europe today. Although Paris or Rome is more popular than Zagreb, this Croatian capital has a lot of great things to see. Also, because it is located in the central of Europe, you can easily visit neighboring countries.
It's a decent area for digital nomads searching for budget areas in Europe as it's not as popular as Dubrovnik city in Europe. Zagreb, Croatia, is still one of the affordable European capitals to visit and live in.
The prices of coffee are amazing and cheaper compared to other places. A decent coffee costs only 1 euro (even less in a smaller cafe) and 50 cents for great baked goods for the morning meal. Furthermore, one chocolate bar and a kilo of cherries is just 1 euro.
These are 2-3 times more costly in some Asia countries, which means Zagreb is one of the cities with a cheap cost of living that is suitable for a budget digital nomad to travel to. Most coffee shops have free wireless internet, so you can also work while drinking your coffee there. Assuming you are hoping to connect with other digital nomads, it is easy because coworking spaces are also available. BizKoshnica and Hub385 are well-known coworking spaces present in Zagreb. Most areas in Zagreb offer reliable and great internet at 15-25 Mbps.
Prague, Czech Republic
Did you grow up needing to live in a fantasy? Then Prague is your next place to live. This memorable city has a long history and is perhaps the most famous area to live a digital nomad life in middle Europe.
In Prague, accommodation costs roughly $500 each month for a little city level, and these can be found online without any problem. Food is assessed at $400 monthly if you cook at home and visit the eatery.
Prague also has incredible transport lines, including normal buses and a metro system. Trains are also available to link you with other Czech cities and neighboring European countries.
The interrail system is popular there, and hikers are common. While living in Prague, dangerous places aren't common, but there are a few places you should keep away from. The most dangerous areas include Bartolomejska, Benediktska, and Smichov.
Try to research where to keep away from the city before moving there! Inside the Old Town and city center, you'll find numerous local people that speak good English; however, if you travel around the city, the number of local people who speaks another language is low.
There are many areas to check in Prague, like the Astronomical Clock or the Old Town. These give great photo opportunities and are not difficult to visit. Prague's nightlife is one of the major reasons travelers visit there, as you can find many beer tasting, bar visits, and central Europe's biggest club!
Barcelona, Spain for Digital Nomads
The incredible city of Barcelona is a digital nomad's fantasy! This huge city has much to offer the digital nomad going there. It is situated right on the coast of the Mediterranean Sea. You can spend evenings hanging out at La Barceloneta, tasting sangria after working.
A lot of coworking spaces and digital cafes are scattered throughout the city. We should not forget about the great tapas cafés and the remarkable nightlife you will gain there also.
With the super-simple method of transportation, you can take the buses and metro to anywhere you need to go in the city. Walking around the Gothic Quarter and returning to the Middle Ages is a nice tour.
Barcelona might be in the cost range for a few digital nomads, so don't expect to save a lot of cash there, particularly when it comes to renting.
Belgrade, Serbia for Digital Nomads
Belgrade's soul is a demonstration of Serbia's enduring flexibility. There you will see impressive palaces, green spaces, and fortresses. However, they have nice cafés and a lot of cheap eateries.
There is no underground metro in Belgrade except the city's transport system, which does not cost and is moderately proficient. The internet there in Belgrade is decent at 10MBPS as indicated by nomads on Nomad List.
The place has a low crime rate, and the rent range between $400-$800 a month for a flat in the area. Airbnb Sublets averagely cost $1000 per month. But, Belgrade is a major huge city, so there are countless decisions under $750 each month. The living cost ranges from $1600 to $2000 per month.
Tallinn, Estonia for Digital Nomads
If you don't like the tropical beachside, a city like Tallinn could be the ideal area for you! When people consider digital nomadism, living in Southeast Asia and South America are popular places – in any case, Eastern Europe is more popular than you think.
Estonia has a rich culture, interesting history, and gorgeous geography. It offers a variety of climates, from warm summers to cold winters; you can encounter all the warm summers and the cold winters there.
If you like a cold climate, it is experienced there unlike any other place. Tallinn is on the north coast, and you can easily get to different countries like Finland.
Popular activities in Tallinn involve:
Visiting the old town for notable perspectives.
Seeing society in the numerous exhibition halls.
Spending a day at the Tallinn Tower for terrific perspectives.
You can likewise take a beachside day in the mid-year, as Tallinn is a beachfront city. The beachside is in the Baltic Sea, so be careful with the cold temperatures! The country uses Euros as its money, and most of the country speaks Estonian.
Some older residents might speak Russian, but it's more common for youth Estonians to speak German and English. It is perfect for any digital nomads that need to learn new dialects or have the security net of English speakers to interface with.
The average cost of living for a digital nomad in Tallinn is $1260 each month, with roughly $400 going on rent. The nature of living in this city is great, and travelers should know about the crime rate and the percentage of violence there.
For most travelers, you'll be designated 90 days to remain in Estonia before you need to apply for a long-stay visa. However, make sure to check with your government office before visiting!
Vilnius, Lithuania for Digital Nomads
Vilnius has an incredible tech scene and an amazingly gorgeous city with many techs. People like Lithuania, and it is interesting to live in Vilnius since everything is safe there. Life is generally great for most people going there.
The middle of the city has nice bars, eateries, and parks and is bikeable and walkable. There is incredible nature close by, and things are cheap and easy to get. Internet speed is perfect, and there are great wifi and cafes all over the place.
The best part is that people working at cafés and eateries speak good English, making it easy to meet local people, walk around, and get things done.
However, people in Vilnius are kind, and the cost of living there is great. It has a big infrastructure with great internet speed everywhere. Many eateries and cafes have open wifi connections without passwords, making it simple to sign in without asking.
The 4G is great, easy to use, and cheap, unlike other countries in the EU, where you will go through a difficult registration process.
Thessaloniki, Greece for Digital Nomads
Thessaloniki is the greatest city in Greek, with a hilly middle place that gives stories about thousands of years back. The nearby beaches, particularly the Chalkidiki peninsula, are exceptional and great.
Because of its high quality of life, great internet connectivity, and affordability, Thessaloniki has been named a top city for a digital nomad to live in. Everyone dreams of living in a pleasant old city in the Mediterranean's core with good food, friendly local people, and a beautiful environment.
In Thessaloniki, you'll get all that, with reliable, good internet speeds of 15 Mbps, cheap cost of living, and a high level of safety. Regarding coworking spaces, Thessaloniki has many beautiful cafes for evening work alongside Coho's collaborative space.
They are well connected and easy to travel by offering a visa-freeoption compared to other European countries. Also, it is comfortable to move within the city — whether the popular Rhodes or the grand Santorini.
Budapest, Hungary for Digital Nomads
However, many people consider Budapest a pleasant city to visit toward the end of the week or for a short excursion. With a mix of cheap cost of living and culture, the city has all nomads that need a satisfying remote life and fun.
Luckily, in Budapest, there are a lot of great coworking spaces for different requirements. Many coworking spaces also hold some nice events where coworkers can socialize and meet other digital nomads, which is great if you live in Budapest as an expat. The most popular coworking spaces in Budapest are KAPTAR and IMPACT Hub.
The city has lovely old architecture, an incredible expat local area, and the people there are friendly. Budapest costs more than other Hungarian cities, but it's still a cheap European option with a slow speed of life.
Accommodation is assessed at $600 monthly and can easily be found online. Digital nomads planning to stay there for a short time should consider Airbnbs.
The city offers a mix of traditional dishes, world cooking styles, and vegetarian choices. A good meal at an average eatery with a drink will cost you about $10 to $12.5. However, you can save a lot of money in Budapest by cooking your food.
Public transportation, such as metro trains, buses, and more, is affordable in Budapest. It is walkable (and bikeable), and most of its attractions are based in the center, which makes it so easy to walk around the city. You can also get to the airport for budget flights and global links. The major cell phone internet providers in Hungary: are Telenor Hungary, T-mobile Hungary, and Vodafone. All these three companies have a great service in Budapest.
The weather conditions are good in most seasons. People there expect cooler temperatures in cold weather months.
Though some affordable nations usually have a bad reputation in terms of safety, but Budapest is very safe for digital nomads and travelers. The crime rate is very low, especially among tourists.
This article might be beneficial to you: How to become a digital nomad?
Conclusion
We like the freedom we get when working from our laptops because we have a chance to travel full time and see amazing places. There are many difficulties to this kind of way of life.
But we've found that living in an affordable city assists us with taking full advantage of our unconventional family life. We realize there are good places worldwide where we can live and work conveniently.
So, if you're looking for a great city to set up your digital nomad basecamp, one of the cities above is sure to fit the bill. Whether you're looking for a bustling metropolis with all the amenities or a smaller town with a slower pace and more affordable cost of living, there's something for everyone on this list. Have you had a chance to check out any of these destinations? Let us know in the comments below which city you love most – we can't wait to hear what you have to say!.
Check this article: Best Destinations for Digital Nomads in Asia
Source and Citations