Tbilisi has become a popular destination for digital nomads from all over the world, I'm a digital nomad who lives in Tbilisi for the last 4 years but don't take my word for it. There are lots of videos and articles for other digital nomads on all over the internet. Tbilisi with its charms has a lot to offer. Friendly atmosphere, attractive location for international travelers, rich and diverse culture, low cost of living, high quality of digital services from the authorities, very low crime and corruption rate, internet coverage all around the city, tasty wine, and a fast growing economy are above many reasons to consider Tbilisi as the top priority for your nomad entrepreneur adventure.
Safety level in Tbilisi, Georgia
The first thing that comes to your mind when you are planning to move to another country for any reason might be "is it safe there?". Well, the answer to that question, in the case of Georgia, is YES. Georgia is ranked as one of the safest countries in the world as the level of crime is very low.
Georgian police maintain a visible presence throughout the city and other major urban areas both day and nighttime.In general, the Regional Security Office notes that Georgia has experienced a decrease in violent crimes, yet petty theft such as pick pocketing remains a concern.Overall, the country manages to be recognized as one of the safest compared to other Eastern European and Asian countries.
Traffic in Georgia is terrific. According to the OECD Georgia has one of the world's worst accident deaths records.
Corruption level in Georgia
Doing business in foreign country without the threat of corruption is a great asset for anyone planning to settle there. After the demolition of Soviet Union huge reforms have been implemented against corruption in the country. Nowadays a positive tendency of anti-corruption actions keep running.
Internet access and stability in the country of Georgia
When we talk about nomading, the most important thing to have for success in the field is fast internet. The Internet plays the leading role in the development of the nomad business as the physical touch to the clients, providers etc. is decreased.
There are a few internet providers in Tbilisi. The biggest players are Magti and Silknet. They suggest various packages vary from price to the speed of the internet. For example Magti suggests 100 Mbps internet package for 100 Gel monthly.(the fastest one).
Internet coverage in Tbilisi is satisfying
Except for home and office internet, you can catch free internet all over the city. Even though the speed might not be very fast, you can always be online wherever you go. Cafes, restaurants, and other public places have free Wi-Fi. Above that, Tbilisi has free Wi-Fi hotspots in almost every public space: Tbilisi Loves You. Performance speed is not very satisfying but minimalistic tasks might be done with it.
Nowadays, the coverage of 4G internet is almost all around the country and is guaranteed in Tbilisi. Different mobile network providers (Geocell (which is owned by Silknet), Magti and Beeline) purchase different kinds of internet packages at different performance levels and prices.
Banking system in Georgia
There are dozens of banks in Georgia. However, two of the banks are above any other – TBC Bank and Bank of Georgia.
Generally, it is very easy to open a bank account in Georgia. The only documentation you need is your passport and half an hour of waiting. There is no restriction based on nationality or place of living.
Georgian banks do not require minimum deposit to open the account. The commissions for the banking service is also low – depending on the bank and the level of service(fraud protection or other kinds of insurance for example) it is a few Gel per month.
The bank cards, in most cases, are not delivered by post, you can get them at the branch you locate during filling the application.
Those cards are valid worldwide.Basically, the accounts are opened in three currencies simultaneously :GEL, USD and EUR. It's worth mentioning that Georgian bank accounts are in IBAN format, which makes international transfers even easier.
One of the biggest cons of Georgian banks is that they provide internet and mobile banking in English as well., which makes everything easier. It saves you time and energy and gives you access to primary banking services remotely.
If you have a company in Georgia and want to open a business account, the principle basis is the same, the difference is that you need to provide your company's documents along with your passport.
Cost of living in Tbilisi, Georgia
Georgia is considered as one of the cheapest countries in Eastern Europe. Cost of living depends on the length of your stay and your lifestyle.
The biggest cut from the total cost of living comet to rent. The rental rates of a 1 bedroom newly repaired studio apartment in the center of the city( Vake, Vera and Saburtalo are considered to be the best central areas of the city for staying) , with all the necessary furniture ranges from 600 to 1000 GEL. The price decreases in the suburbs. However, According to Business Insider, Tbilisi has the cheapest Airbnb prices in Europe.
Food is delicious and cheap. If you don't eat outside 3 times a day and instead buy groceries and cook at home or eat Georgian fast food, you won't be spending much on food.
Utilities, as well, are not expensive in the country. Basic utilities price for a little apartment might be up to 200 Gel including internet, heating, garbage, water, electricity and gas.
Transportation is also cheap (0.5 – 0.8 Gel per pass) around the city if you hold any kind of transportation card. For example, the basic bank card issued by the Bank of Georgia can be used as a transportation card as well or you can buy a special card (multi usage – you have to "charge" it before using by putting as much money on it as you want starting from 0.5 Gel) in the metro stations for 2 Gel.
Taxis are quite affordable as well and cheaper than most of the Western and Eastern European countries.
Overall, living in Georgia is cheap and is different for local and expats. Expat might need 400-900 USD depending on their lifestyle. To hear personal experience from me as a digital nomad living in Tbilisi Georgia, see the video below
How to travel and stay in Georgia?
Citizens from the Schengen zone and 95 more countries can travel visa-free to Georgia. This means, that if you are from the above mentioned countries, you are allowed to legally stay in Georgia for a year without issuing a visa. After this you can issue a visa or cross the border of the country : go to neighboring countries and come back in a day or two (hours maybe).
Remotely from Georgia — an opportunity for digital entrepreneurs and freelancers
Before pandemic Georgia was emerging as both a digital nomad hotspot and a growing tourism destination. After the border closures the tendency almost faded away. Because of that, Georgian government started a new program "Remotely from Georgia ". The idea of the project is for foreigners (from the list of 95 countries at this moment) to live and work from Georgia without a visa for a year. Those who are remote workers and earn more than 2,000 per month early, depending on their profession, may enter Georgia, pay for their 8-day quarantine stay in a preselected hotel and live and work from Georgia legally for 365 days (180 days at least.). If interested, you may read more information on this article: How to travel to Georgia during the pandemic?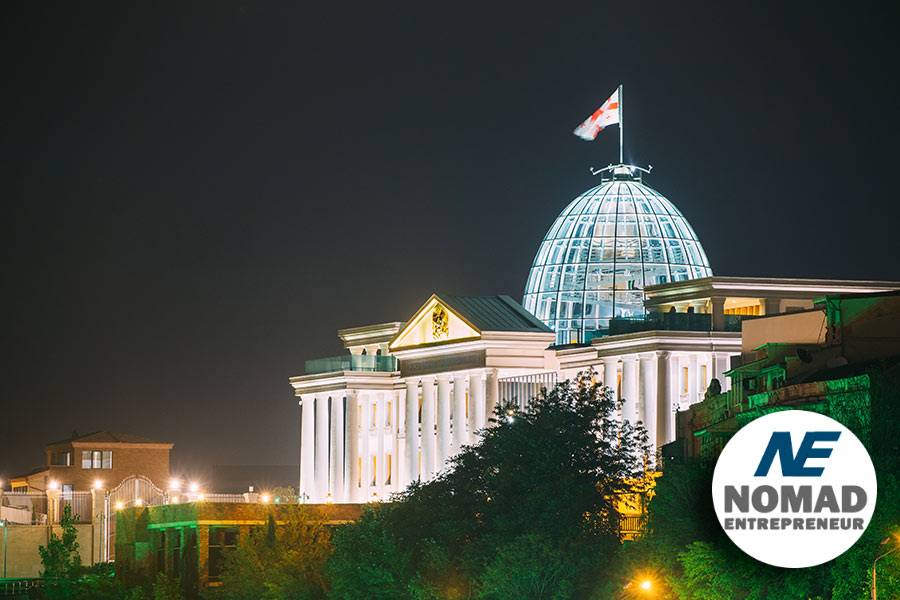 Taxation system in the country of Georgia
Georgia applies a territorial tax system, this means that incomes gained from outside the country are not subject to taxation. Personal income tax is 20% while corporate income -15% and tax on dividends- 5 %. Overall, taxation system is soft toward foreigners.
Social life in Tbilisi, Georgia
Tbilisi is a charming place with beautiful, cozy streets to walk by, a huge range of restaurants starting from traditional Georgian cuisine to European and Asian food spots, community bars for drinking and making friends.
Fabrika is one of the most famous modern places in the city to visit, there is a hostel, bars and coworking space as well.
If you are a social person, Tbilisi gives you plenty of choices to go out and have fun in your taste and budget.
Terminal, along with other places around the city, is also a co-working space in Tbilisi if you are not a fan of coffee shops or cafes to work during day time.
If you love walking, there are many nice parks for example Mziuri, Rike park, Vake park, Turtle and Lisi lakes etc. where you can go cycling as well.
After all, if you prefer to stay in and have your meals delivered, you should know that food delivery is a very popular and fast developing field. Glovo and Wolt are the biggest delivery suppliers, while some restaurants have their own delivery service as well.
Conclusion
To conclude, Tbilisi might not be a perfect city, but it's fast pace developing rhythm, lower costs on essentials, friendly people, safety and a bond of reasons for digital nomads to create a hub in the city in coming years, have a fantastic experience and enjoy doing money. As attractive as it might seem, it is always very thoughtful of travelers to have an insight look. If you are planning to move to Tbilisi, we recommend you booking a call to our experts to set the right expectations. If you are a couple and thinking of having epic wedding party, read this blog post: Why are foreigners getting married in Georgia?