Georgia has become one of the best tourism destinations through the decade and a lot of tourists thinking of moving to Georgia and the main question is how to settle in Georgia keep reading to find the answer. First, let me say that this country has a lot to be proud of. The culture, history, magnificent landscape, diverse nation, the old traditions of hospitality. Georgia is mysterious land and you can discover every little part of it every time you visit it. However, being a tourist and living in the country are absolutely different experiences.
If you are planning to immigrate to Georgia, this article is for you. Behind the real magic of tourist stay, there're some facts you should be ready for before relocation to Georgia.
Why to move and getting settled in Georgia
Georgia is a country in the Caucasus region bordered by Armenia, Azerbaijan, Turkey and Russia. The environment in the country is very diverse: it has access to the Black Sea from the west, tropical forests and semi-deserts, big cities and small rural areas co-exist in that small country of Georgia.
After the demolition of the Soviet Union and then the "Rose Revolution" in 2003 Georgia has chosen the Western route. Ever since, the country has made significant changes and nowadays, Georgia is among the fast developing countries.
Step by step, Georgia is getting closer to European Union. The European Union and Georgia's committed relationship is based on the EU Georgia Association Agreement including a Deep and Comprehensive Free Trade Area which was enforced in July 2016 and strives for political association and economic integration.
Georgian Visa Regime
Georgian government issued an order in 2014, under which citizens from the Schengen zone and 95 more countries can travel visa-free to Georgia. This is a great opportunity for the citizens from those countries, who are willing to migrate to Georgia: they have a whole year to decide whether Georgia is the best place for them to live in or not.
Visitors from around the rest of the world can apply for a visa. A foreigner who meets the requirements and conditions set for the issuance of a Georgian visa can be granted a single (for a stay of no more than 30 days.) Or multiple-entry visa (is issued for the duration of maximum five years).
See our article on how to travel to Georgia during Pandemic if you're planning to travel to Georgia in the near future.
There are 5 main types of visas. The types vary from transit to diplomatic purposes. Every visa category has its own requirements, before applying for any, find out more about immigration process in Georgia.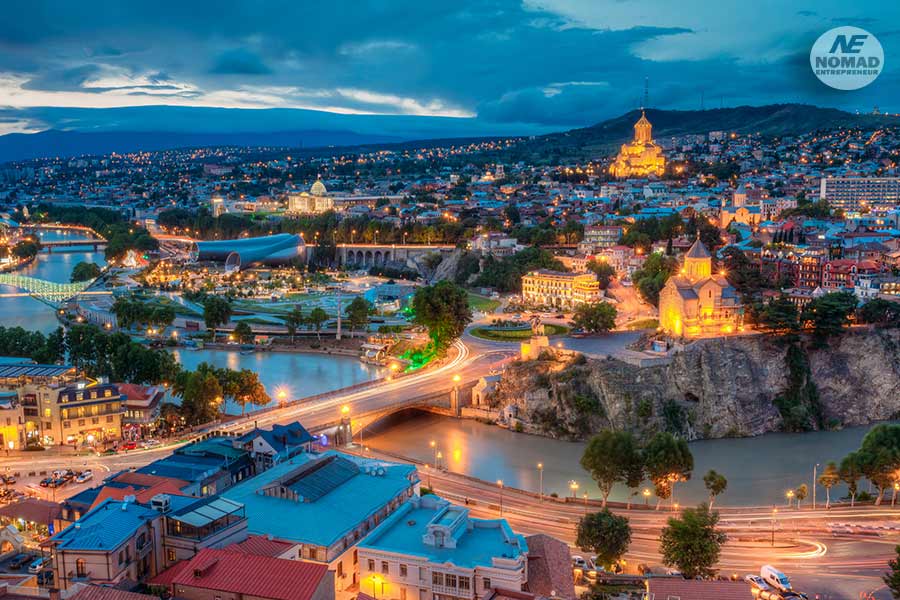 The best cities to live in Georgia Europe
Major cities
Living in Tbilisi, Tbilisi is the capital of Georgia and therefore the biggest city in the country with the population of over a million.Living in the capital gives you easy and quick access to most of the state authorities, fast pace life, more places to have fun etc.
Before moving to Tbilisi you should analyze where you are going to live in the city center or outside it. This matters as long as the prices of apartments and cost of living in general, varies. If you are wondering about the real estate prices in Tbilisi, Read this article: Tips for investing in real estate in Georgia
Living in Batumi, Batumi is one of the most beautiful cities in the country. Located at the Black Sea shore it is one of the most beautiful cities in the country with fascinating urban architecture, friendly people and breathtaking landscape.After Tbilisi, Batumi is the second most visited place in Georgia. Do you want to know about the real estate market in Batumi? Read this blog post: Should you invest in real estate in Batumi?
Living in Kutaisi, Kutaisi is also located in the western part of the country. With the rich history this city and whole Imereti region is one of the oldest in the country.
While these are only 3 cities, there are many little cozy towns in the country with their own charm.
Rural area
Agriculture in Georgia is one of its most prospective economic sectors. Right now the rural area of the country is not highly developed and the population tends to migrate in urban areas because of many reasons, including high rate of unemployment. Farmers are forced to abandon the land and try to settle elsewhere to keep their family together.
If you are interested in agriculture and living a village life, then Georgia has a lot to offer.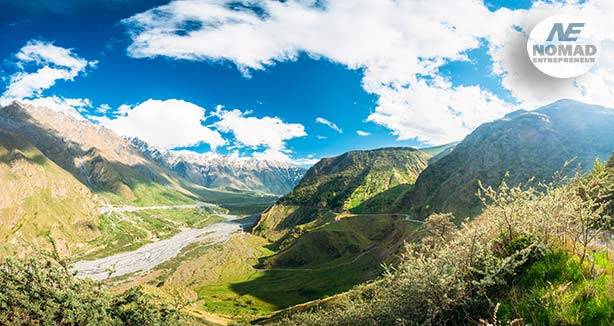 Cost of living in Tbilisi Georgia
Generally, Georgia is one of the cheapest countries in Europe. Georgia's living index is ranked quite low- 29.49, which is about 70.51% lower than New-York's living index.
Accommodation
In Georgia's big cities like Tbilisi, Batumi and Kutaisi accommodation prices per month vary from the number of bedrooms and condition, to the location of apartments.
The rental rates of a 2 bedroom newly repaired apartment in the center of the city, with all the necessary furniture ranges from 800 to 1600 GEL, while the cost of the same size apartment in suburbs might cost you from 500 to 900 GEL.
If you plan buying a property instead of hiring, you should consider real estate is quite cheap in Georgia compared to other European cities. For example, price per square meter in the city center can vary from 3000 to 4900 GEL. To get sufficient information about the real estate market in Georgia, see our article "Should YOU invest in Real Estate in Georgia?"
Utilities: Electricity, Gas, Water, and Internet prices
Utilities in Georgia are paid monthly and the prices are fixed. For example: for an 85 square meter apartment basic utility price can be up to 300 GEL. Basic includes electricity, Heating, Cooling, Water, Garbage taxes.
Internet taxes range from 30 to 60 GEL as a standard.
Georgia has easy ways to pay utility bills. Digitized pay boxes are located all around the country where you can easily choose the service and pay for any kind of utilities. Paying the bills is also possible by using an online bank.
Transportation cost in Georgia
There are different types of transportation in Georgia and prices mostly depend on the comfortability of the route.
One way tickets in the city's local transport ( bus and metro) cost from 0.50 to 0.80 GEL. Those who have student's card metro and bus costs 0.20 GEL per path. Therefore, transportation in the city for 1.5 hour is free after the first payment by transport card.
Normal tariff for Taxi is 0.60-2.00 GEL per km.
Price of gasoline per liter ranges from 2.00 to 2.80 GEL.
The prices of cars are quite cheap as well and range from approx 3500 $ and higher.
Education cost in Georgia
There are several types and levels of educational establishments in the country. To start with schools – there are government owned and private ones. Primary school education is compulsory for children and is free of charge in public schools (high school education isn't mandatory but free of charge as well.).
Private schools are believed to provide better quality of education, and will cost you from 4000 to 20 000 GEL per year. However, if you are willing to educate your kids in private school, you'll find the best option based on your budget.
The higher education institutions in Georgian also offer different prices for different educational programs. Tuition fees vary from 2250 to around 8000 GEL per year. Just like public and private schools, tuition fees are different in state and private universities. For more info see the article.
Residence permits in Georgia
Granting a Georgian residence permit allows aliens to engage in any lawful activities in the country except for voting elections. Residents of the country are ensured a list of economic and social rights. "Certain amendments have been made recently and nowadays there are different kinds of residence permits according to the Georgian legislation."
We have already provided all the necessary information you should know before applying for the residence permit in the following article: "Should you get a residence permit in Georgia?"
Doing business in Georgia
The cons of doing business in Georgia is the easy start, while the hidden bureaucracy makes it hard to process. See our step-by-step guide on how to start a business in Georgia.
If you are a nomad entrepreneur or a freelancer Georgia is one of the best places for you to settle. Internet connection covers almost the whole country and the atmosphere is fantastic and friendly. Especially now, Georgia has made some promotions regarding those who want to work from Georgia. See the article as well to find out more about remote work possibilities.
Job Market
Unemployment is one of the biggest problems in the country. The average salary in the first quarter of 2020 was 1.200 Gel. Before moving to Georgia, make sure that you have a stable, well-paid job, otherwise, you will struggle to find one here.
Another things you should know before moving to Georgia
Religion
Freedom of religion in Georgia is acknowledged by the constitution of the country. However, Roughly 80% of Georgia's population identify themselves as orthodox Christians. There are many cathedrals all around the country. The diversity of the population reflects the religious atmosphere as well. For example, in Tbilisi, on one street you can find orthodox church, Armenian Apostolic cathedral, synagogue and mosque all next to each other.
Driving in Georgia
As many foreigners say, traffic in Georgia is terrific. However, after some time you will get used to it. If you are planning to stay in Georgia for more than a year, you might need to change your native drivers license into an international. The full guide on the procedure can be seen on How to get a driving license in Georgia.
Language obstacles.
First, don't expect everyone to know English. New generation can communicate in English but older people know Russian better, for objective reasons.
Georgian is believed to be one of the hardest languages to learn, but learning some basic words and phrases will help you to adapt in the community.
Healthcare services in Georgia
Costs for healthcare services are high in Georgia. However, you can always purchase insurance. Of course, there are pros and cons of the whole system, which can be discovered in a detailed explanatory article about the healthcare system in the country.
Experiences of people who moved to Georgia
I hosted on Nomad Entrepreneur YouTube channel Mr. Fady Asly, the president of the International Chamber of Commerce in Georgia where he told viewers about his experience living in Georgia for approximately 24 years. Watch below
There is another interesting experience for Jim Holroyd who is an English teacher. Jim has been living in Georgia for 11 years. He has shared his experience of living in Georgia in this blog post: 11 Years of Living in Georgia: The Good and the Bad
Moving to Georgia at a glance
To conclude, Georgia is an attractive destination for various reasons. Of course, the idea of moving to Georgia has its positive and negative aspects. However, recognition of law based governance, friendly people, easy travel policies, affordable cost of living, unique history and culture were among key factors for foreign citizens who are now residents of Georgia. If you are willing to migrate to Georgia, you are going to need a full guide on individual climate change (not just weather), in that case, book a call to our experts.