The finest aspects of being a Digital Nomad vary from person to person, but this nomadic lifestyle has numerous advantages and benefits that can improve people's lives, personal growth, financial security, and general pleasure.
More people are discovering new ways to live and work as the world of remote employment expands. One of these is the Digital Nomad Lifestyle, which involves working remotely and living in various locations around the globe.
There are always drawbacks to other ways of life, but the benefits of being a Digital Nomad far exceed the drawbacks. It's all about finding what works for you and makes you happy, as it is with everything else in life.
If you're starting your remote work journey and aren't sure why you want to be a Digital Nomad, keep reading because it will motivate you to keep going and live your remote work aspirations. This should help you balance the benefits and drawbacks of being a Digital Nomad, but the best thing you can do is give it a try!
What are digital nomads or who are digital nomads?
To begin, let's define what it means to be a digital nomad. The phrase "digital nomad" refers to a wide range of location-independent employees, from those with passive income streams to those who work in the gig economy while traveling.
All digital nomads share the trait of spending several months each year abroad, being continuously on the move, and earning a living while working online. In locations like Thailand or Bali in Southeast Asia, a digital nomad can easily earn $12,000 per year and live a comfortable lifestyle. If you take that same digital nomad to London, Paris, or Sydney, things won't go as well.
Location independence refers to nomads' actual freedom as a result of strong salaries that allow them to conduct business from any city on the earth, including the most expensive. The goal here is to become a digital nomad so you can work and travel throughout the world, regardless of how much money you can make from remote employment.
Benefits of being a digital nomad entrepreneur
1. Work and travel wherever you want
This is the most important aspect of the Digital Nomad lifestyle for most people. Being free to travel and work when and where you want is a dream come true. The ability to choose whatever country you want to reside in and how long you want to stay.
Many people want to explore the world but are unable to do so because they are confined to a 9-5 job with few vacation days.
2. Get a Better Understanding of Different Cultures
The difference between a short vacation and truly staying in a location has a significant impact on your experience! Being able to stay in a place and become a local will open you up to a whole new world of contacts and experiences.
Instead of just skimming the surface with a vacation, you may genuinely get to know a place and the people who live there and become a part of a community.
3. Personal Development
Travel, in general, is a fantastic opportunity to test your limits and grow as a person. As you will be placed in new hard scenarios and surrounded by new individuals, you will be put to the test on various levels. This is one of the greatest benefits of being a digital nomad.
Your mind will be opened and you will be exposed to a wide range of thoughts and beliefs, some of which will be new to you.
Travel will help you consider the larger picture, reminding you of who you are, who you love, and why you love them. While also allowing you to be more grateful and enjoy the most important aspects of life.
4. Lesser Living Expenses/Higher Quality
In general, the cost of living in different countries will be lower depending on where you are from (not always the case).
This improves your quality of life and allows you to buy some things that you would not be able to afford at home. This could mean you can eat out more, go on weekend getaways, upgrade your flat, or hire a cleaner.
It's great and liberating to be able to say yes to everything without worrying or thinking about your budget.
5. Minimalist Way of Life
Here is another of the benefits of being a digital nomad. When you live a Digital Nomad lifestyle, you usually have to pack your entire life into a suitcase or bag. We all know how little they may be, therefore this implies you'll have to live with fewer possessions.
For some, this can be both good and bad, but you may find that you love the lack of stuff. Our homes are full of things we don't use or clothes we've never worn.
6. Financial Independence – Money Management
With the benefit of being able to live a simpler and less expensive life comes the benefit of having more money. This means you have extra money to invest in other ventures or do the right thing and save.
Digital Nomads, both freelancers, and entrepreneurs will need to budget for themselves, learn about taxes, expenses, and pensions, and generally improve their financial management skills.
If you work remotely as a Digital Nomad, you'll still need to learn about budgeting, but not as much about tax and pensions because these are usually covered by the payroll.
7. Making New Friends
One of the advantages of being a Digital Nomad is the ongoing opportunity to meet new people.
Because you are always exposed to new people, you will find people with whom you connect on a deeper level than some of the people with whom you may have grown up.
Meeting new people provides opportunities to learn, be inspired, or simply have fun and create memories. New relationships are one of the benefits of being a digital nomad and will give you a sense of belonging, purpose, and self-worth, as well as increase your overall happiness.
8. There will be no long or stressful commute.
You may wonder why you should become a Digital Nomad. A long or unpleasant commute, on the other hand, is something you'll never have to deal with again! That means no more being crammed under someone's armpit on the subway and no more being delayed in a congested traffic jam for hours on your way to work.
In general, it provides you with more time and less stress; simply whip out your laptop and go to work. The best part is that you can work from anywhere, whether it's from home, a co-working place, or a lovely cafe.
9. Work as little or as much as you like
It's fantastic to be able to choose how much time you work! If you feel like you need a break from work and want to spend a month seeing Costa Rica, you can do so.
If you prefer to spend your days doing pleasant pastimes and only work part-time, you can do so. You can save money for the future by working more hours and saving what you need. The ability to choose your desired amount of work ours is one of the greatest benefits of being a digital nomad.
10. Feeling Like You Belong – Become a part of a community
Being a member of a movement and way of life is one of the best aspects of being a Digital Nomad. The antiquated and controlling structure and system of a 9-5 work have been developed for individuals.
It was created to keep individuals in the system, pay taxes, and work 40-hour weeks until retirement. While just having enough money to pay bills, get by in life, have children, and go on a once-a-year vacation.
You don't have to follow the 'standard' way of life or explain why you haven't bought a home and started a family in your hometown. You are not alone; not everyone wants to live that way; more people are opting for other lifestyles
What to Know before Becoming a digital nomad?
If you're thinking about joining the digital nomad community, there are a few things you should know:
1. Think about why you want to go on a road trip (or Air)
Many of us see the digital nomad lifestyle as a way to get away from our daily concerns. A brief retreat may be the answer we seek, but we often confuse it with the long-term commitment that the life of a digital nomad necessitates.
So the first thing you need to do is evaluate the genuine cause for packing your belongings and boarding the next flight to an unknown destination.
2. It's Easy to Feel Lonely
If you decide to become a digital nomad on your own, you should be aware that forming and maintaining long-term relationships will be tough.
You have no idea how long you will stay in one spot because there is no stable home base. Even if you decide to spend a year on a Caribbean island, your prospects of developing enduring friendships are slim. This is because the majority of the individuals you meet will be traveling to various destinations soon, just like you.
3. You'll have to put in the Hours
As previously said, you will need to work to support your traveling lifestyle. It will be difficult to plan or estimate your work hours unless you have full-time employment. It may consume far more time each day than you planned.
Because of erratic work schedules, you may find yourself slouched over your laptop for hours on end, even in airports and on the bus. With remote jobs, having a solid Wi-Fi connection makes things easier, but having a patchy one may be unpleasant. In addition, with unpredictable and sporadic occupations comes financial worry.
4. You may not have a lot of opportunities to travel.
A digital nomad's life isn't one of the unending vacations. Because your employment commitments may make regular travel impractical, you won't be able to pack your bags and depart whenever you want.
Several people who prefer to work from anywhere choose to stay in areas with decent internet connectivity and a pleasant working environment for longer periods.
It will be difficult for you to meet deadlines and work commitments if you travel frequently. So contrary to popular perception, a digital nomad does not enjoy a never-ending beach getaway for most of the part.
When I graduated from college, I was determined to live and work abroad but I wasn't sure how to turn that lifestyle goal into a career path. That was ten years ago and high-speed wireless Internet wasn't pervasive enough in my bucket-list destinations to put in an efficient work day online. So, I explored the standard routes–Peace Corps, multinational nonprofits–and eventually landed in Ecuador with my boyfriend (now husband) teaching English at a community school in the Andes with WorldTeach, a non-profit, non-governmental organization founded by a group of Harvard University students. I found it energizing to pare back my life to only what would fit in a few hiking bags. At night and on weekends, I learned how to make guanabana ice cream in a spinning copper pan, bargain with grumpy taxi drivers in Spanish, and dance to live bands playing woodwind instruments I didn't know existed.

Tanya Mohn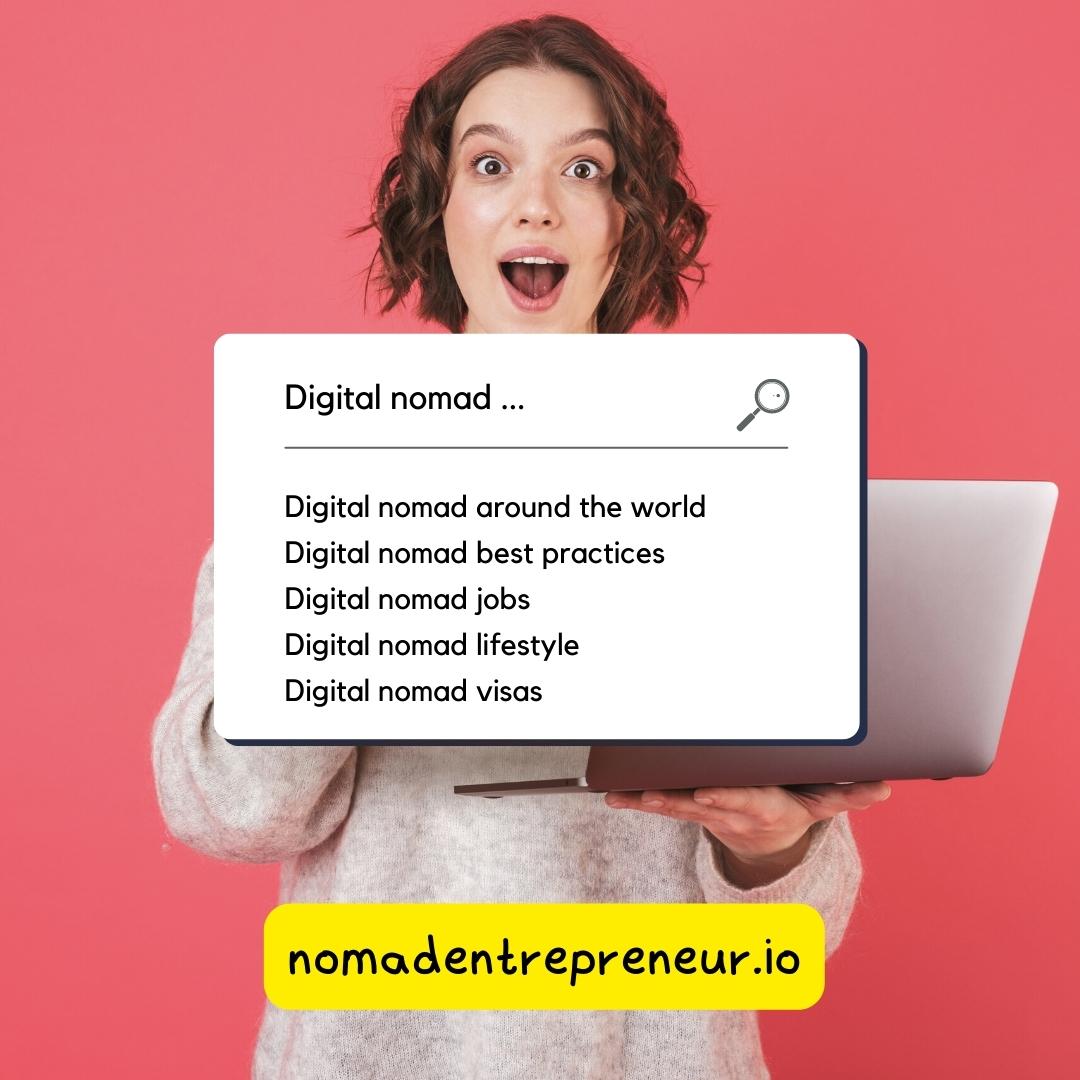 How do you become a digital nomad from scratch with no experience?
Consider both the practical and fun sides of your voyage by laying out your travel experiences, as well as your budget and storage strategy, to become a digital nomad. Here's a step-by-step guide:
Make a budget: Planning out your travel and living expenses before you go will help you keep organized and prevent unnecessary costs. Consider how much you spend on transportation, housing, food, and experiences while making a budget.
Plan your travels: While you can go to different cities and countries on the spur of the moment, it's a good idea to plan your first few stops. This map will make determining other administrative and practical parts of your trip, such as visas and residency permit applications, much easier. Consider your employment and the time difference when looking for a location to reside.
Purchase health insurance: Research and select a health insurance plan that will cover you in all of the locations you intend to visit. If you want to spend the majority of your time abroad, you should consider purchasing travel insurance.
Choose a phone plan: If you want to travel internationally, unlocking your phone is a good idea. You can use your phone to travel from one country to the next once you unlock it. An overseas phone company can also sell you a prepaid SIM card with a defined quantity of data. You can buy a mobile Wi-Fi gadget once your phone plan is set up, so you don't have to rely on cafés and public Wi-Fi hotspots for business.
Plan your finances: Before leaving on your travel, check to see if the country you're moving to accepts your debit and credit cards. On international purchases, there is frequently a foreign transaction fee; nevertheless, some banks offer international account choices. You don't pay a foreign transaction charge with these checking accounts; instead, you only pay the conversion rate. If you're traveling abroad, you should also consider purchasing foreign currency from your bank or credit union before leaving.
Keep your belongings safe: Because it is easier to relocate from one city to the next, digital nomads prefer to travel light. You can either rent a storage unit or ask friends and family to store some of your possessions at their homes. Signing up for a home-sharing service or finding a long-term renter while you're away is another cost-effective option.
How to make money as a digital nomad?
So you've decided to give nomadic living a try. You must first learn how to make money online before quitting your job and traveling as a digital nomad.
Fortunately, there are numerous options available, and they are growing every year as organizations downsize and recruit remote workers to cut down on physical costs such as office space.
And have consistency at the back of your mind as a pivot to experiencing benefits of being a digital nomad.
Jobs you can get on
The following are some examples of digital nomad jobs that you can do:
Software Developers, Consulting, Bookkeeping, Marketing, Blogging, YouTubers, Customer Service, Freelance Writers, SEO Agency Work, Virtual Assistants, Creating Online Courses, Language Education, Website Designers, and Selling On Amazon.
It's hard to list all of the tasks that can be done from home, but here are a few that I've come across on my travels.
Don't limit yourself to just one career or providing one service to one type of client. There are thousands of potential clients out there needing help that they are willing to pay for. Tell yourself that every day when you're starting out.

As the Bird Flies Blog
Books to read
Here are some books to help you on your way to becoming a digital nomad.
Downsides of the digital nomad
While the benefits of being a digital nomad are numerous, there are some drawbacks to consider:
Homesickness: Depending on your destination, you may be separated from your family and friends. While the novelty of visiting a foreign nation may be exhilarating at first, it's natural to become homesick after a while. It's simpler to stay in touch with friends and family thanks to technology, but the time difference may make it more difficult.
Spending Increase: As a digital nomad, you may spend the majority of your money on travel and activities, which can eat into your long-term savings. Consider putting a percentage of your income aside for the future when making a budget.
Lack of motivation: It's easy to become sidetracked and unmotivated to work while traveling. Because self-discipline is a key component of the digital nomad lifestyle, striking a balance between work and travel is essential for long-term success.
Administrative issues: Working remotely from a different nation necessitates the acquisition of permits and knowledge of tax rules. Different nations have different norms and regulations, making it tough to keep track of all your documentation. Review the bureaucratic processes you'll need to take before going and working overseas to avoid any issues when you arrive.
The other strange aspect of this lifestyle is that the people who you are most connected to and relate to the most, you only see a few times a year. The last time I saw my best friend (who is location-independent as well) was last December in Guatemala.

Mark manson
Why do digital nomads fail?
You may have seen videos and articles where digital nomads discuss how their location-independent lifestyle has failed them. They will have emphasized how frequently they were broke and dissatisfied, as well as their desire to return to their previous 'regular' routine.
How aggravating must their situation have been?
Working from anywhere in the globe, meeting new people, learning about different cultures, and experiencing new foods have a lot of appeals. However, it is not as simple as it appears. There is a number of reasons why things don't go as planned.
1. What Goes Wrong with Digital Nomads?
Being location-independent is becoming increasingly fashionable every day. Many people are motivated by the success tales to quit their jobs, sell their stuff, and embark on the greatest adventure of their life.
However, while some people are brilliant, skilled, and fortunate enough to succeed, the majority struggle and fail.
If you don't want to be one of the people that return home with their tail between their legs, take a seat and think about the following common blunders.
2. Insufficient Funds
Traveling to different locations costs a lot of money. Even more so if you wish to try their local food and see some of their famous sights. As a result, the first and most important stage is to determine whether your funds can sustain your lifestyle.
Even if you've correctly set up your online career, you'll require a significant investment to cover your transportation, food, and lodging expenses until your revenue becomes solid. It's dangerous to assume you'll suddenly be able to earn a lot of money. You'll be compelled to return home after your savings are depleted.
3. Actions to take:
Make sure you have stable remote work or a reliable way of paying for your travels for at least 6 months to a year before quitting your office job and purchasing an airline ticket. Begin saving as soon as possible and sell items you will no longer use.
Calculate how much you'll need to cover your expenses each month. Always set aside money for unexpected expenses, such as medical costs. This will necessitate the usage of a document to track your income and expenditures.
If you're unsure whether you can afford the change, be honest with yourself. Pose some difficult questions to yourself, such as whether you're willing to:
Always try to live within your means.
Work a sufficient number of hours.
Have a strong desire to succeed.
You live and work in an atmosphere that makes it difficult for you to be productive.
4. Inadequate Flexibility
Few people are prepared to put in the time and effort required to pursue a job abroad or while traveling from one location to another. Many people discover the hard way that paperwork and other administrative tasks consume a significant portion of their time.
Personal matters must also be addressed. Some cultural differences that seem fascinating while on vacation can become annoying when living abroad for long periods. Issues may arise when you can't adapt to the differences or have flawed expectations about yourself and the people you work with.
Conclusion
If you truly want to be a digital nomad or become location independent or experience the benefits of being a digital nomad, the first step is to get started on your journey. You'll be able to get started much more quickly than you think. You can get started in a few weeks and have a full-fledged business in one or two years with hard effort and a little luck.
You have nothing to lose and everything to gain by getting out there and pursuing your aspirations.