The worry of running out of time on a deadline is a major source of anxiety, especially if you're juggling other duties in your business. That's when time management comes into play to help you rescue your company.
Prioritizing critical tasks, allocating time to do those duties, and committing to finishing those tasks within that time frame are all part of time management for your organization.
Successful people multitask a lot, but they make sure to spend the majority of their time on critical tasks that are far more conducive to the success of their business than wasting time on insignificant ones. Discipline is required for effective time management. They encourage you to work wisely rather than just hard.
For your business, you'll be able to accomplish more in less time. That is the formula for success. Stay tuned as I will be showing you in this article various points that answers "why is time management important for entrepreneurs".
Why is time management important for entrepreneurs?
If you don't yet understand how critical time management is for your business, you may lack the incentive to change your routine or working methods.
Let's look at five reasons why learning time management is essential for your company's survival why is time management important for entrepreneurs.
1. Get more done in less time
The fact that time is always in short supply is the first and most important reason why your business requires your time management abilities. A day is made up of only 24 hours. You have to make do with the time you have each day.
You only have a certain number of hours, whether you have a business meeting or a certain task to do.
Understanding that time is finite aids in a better understanding of its value. You may accomplish more in less time if you manage your time well.
This forces you to concentrate more on critical business meetings and marketing presentations than on other, less vital duties. Your company's productivity will increase as a result of this concentration.
2. More effective decision-making
The majority of the time, your company requires you to prioritize your tasks based on their importance. All of this can be much easier to manage if you have solid time management abilities.
Easier task management eliminates work-related stress and allows you to think more clearly. It allows you to concentrate considerably more effectively on the activities at hand.
You may produce better ideas, make wiser judgments, and find rapid answers to any stumbling blocks in your business if you manage your time well. This is another good answer to "why is time management important for entrepreneurs".
3. More time to expand your business
Time management isn't just about making your business run more smoothly and efficiently. It also provides you more time to develop new skills and explore new business initiatives to help you grow your company.
The extra time you'll have on your hands will allow you to advance your business, learn new skills, and plan for the future. The new ventures will then present you with even more opportunities and growth potential.
4. Stress reduction
The ability to effectively manage your time has a direct impact on your health and business. Imagine having fewer surprises, fewer tight deadlines, and no longer having to dash from one task to the next all day long. This is another major reason why is time management important for entrepreneurs.
You can only achieve peace of mind in your business if you can effectively manage your time. Constantly being busy to experience a sense of accomplishment, but never completing the chores, will wreak havoc on your mental health and impair your decision-making abilities.
That is why you must understand time management to succeed in your business. You'll enhance your ability to stay calm and composed while meeting tight deadlines.
5. Improving the work and service quality
Working on a tight schedule with strong deadlines might harm the quality of your work. Have you ever been in a scenario when a deadline was approaching, but you could have produced far higher-quality work if you had a little more time?
Imagine giving a presentation to someone on a critical business offer, but owing to mental stress and a lack of time, you omit a few key elements and queries. That's when your time management skills will come in handy for your company. You will be able to focus more on certain tasks without feeling stressed if you plan and manage your time limits correctly. As a result, the quality of your output will improve.
How to plan your week as an entrepreneur
1. To-Do List
This isn't just a list for picking up dry cleaning and dropping off the kids. Make five categories: business, finances, health, spirituality, and family. To stay organized and holistic, break down chores into categories. Keep a copy of the list on your phone to serve as a reminder during the week.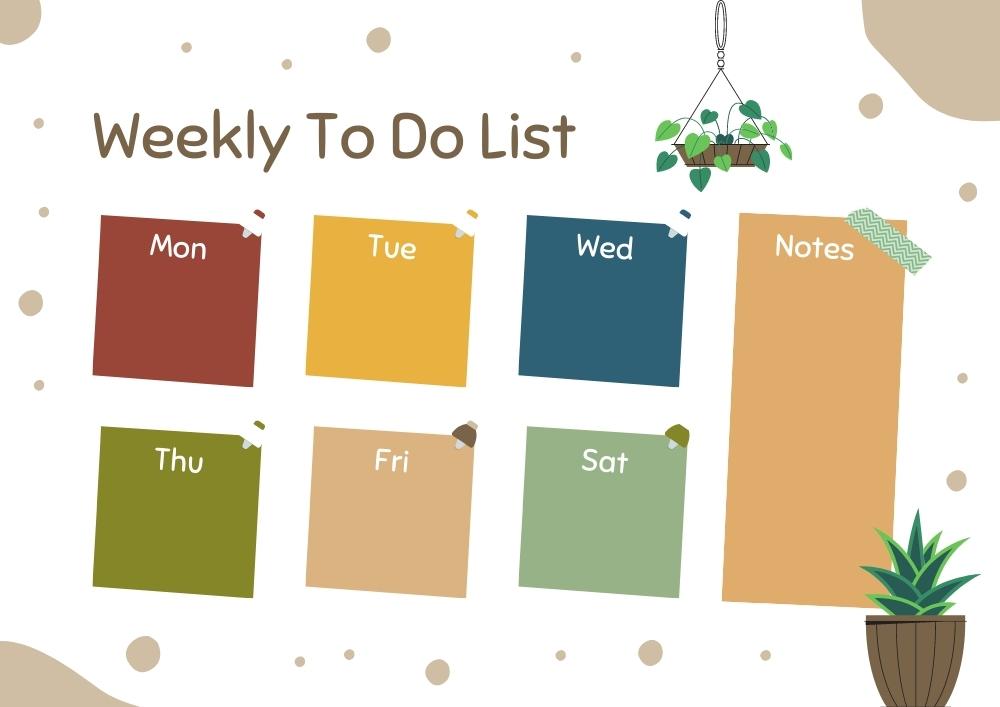 2. Keep in touch
Check your calendar for the last 90 days to identify who you need to follow up with and if any leaks occurred, and add them to your to-do list.
Give each of your daily chores a Daily Monitoring Activity Score, which will be added to a weekly total. Create your business criteria so you know what you need to achieve each day to get a perfect score for the following week.
3. Speak with Important People
Make contact with your core team to ensure that they are ready for impending duties and projects. Do it on Sunday so you're not behind the eight ball on Monday.
4. Who are the members of your team?
Make a list of everyone from vendors to partners to executives to clients who need to hear from you this week. Include the type of message you wish to send to those individuals as well. Is it about updates or accountability? Then make a note of this group on your to-do list.
5. Take down notes
Examine your to-do list to see what pieces of training and meetings you have coming up, and plan accordingly. Before Monday, gather the data, finish your presentation deck, and figure out what notes you still need.
6. Send Gifts of Appreciation
Determine who should receive a present from you this week, utilizing your five categories, whether it's for a birthday, anniversary, or well wishes.
7. Request Weekly Commitments from Family
This is especially important if you have children. Check-in with your family to see when and where they require your assistance during the week. Every week, the family calendar plays an important role.
You must fuel your thoughts with business and entrepreneurship facts. What better time to do it than on a Sunday evening? To learn fresh knowledge that you may use for your weekly tasks, read news, articles, and books.
9. Information from the research
Today, stay on top of all your figures. What were your sales last month if you're in real estate? Take a look at the first quarter of last year vs the first quarter of this year. Do everything you can to ensure that you know where your company stands before anyone walks into the office on Monday morning.
10. Get the Wardrobe ready
Set out your clothes for the next day the night before, making sure they are suited for your appointments and tasks. It will save you time and tension, ensuring a smooth start to your week.
How to improve time management skills for entrepreneurs
1. Break Down Your Tasks into Simple Steps
It takes more energy to use your consciousness, which can be avoided by simplifying your difficulties. Establishing a process and breaking it down into small, atomic processes that are easy to understand and don't demand a lot of resources is the key to time management excellence.
In a short movie, Veritasium discusses how the brain works, why people are lazy, and what the unconscious mind can help us with daily.
Successful entrepreneurs break down a difficult activity into manageable chunks, making the rest of the process easier to understand and follow. Straightforward activities are simple, and carrying them out does not necessitate thousands of follow-up inquiries that keep you from crossing items off your to-do list.
2. Make a system for prioritizing your tasks.
Businesses have different priorities, which are defined by deadlines, the necessity of execution, potential ROI, and reach. However, we frequently overlook the things that add long-term value, or we focus on a particular procedure for weeks while leaving everything else in the backlog.
"Getting Things Done" is a time management strategy that creates a technique based on creativity, attention, and efficient preparation. To focus on big picture goals, David Allen, the originator of GTD, believes that people should learn to control and process their required day-to-day work first.
3. Begin with a straightforward task.
Failure to finish a large and difficult work during the day can demotivate you and hinder you from making progress on your weekly plans.
Starting with a simple and quick chore that gives you a head start is a great approach to breaking the ice. This will kick start your productivity and hustle, allowing you to focus on more difficult jobs later.
4. Make a long-term strategy.
Planning is one of the monotonous jobs that might take you away from your day-to-day activity. While its fine for individual activities to emerge from your interactions during the workweek, making a long-term plan can help you focus and determine whether your new chores are following your objectives.
You can decide the desired outcome and measure it once or twice a month by outlining the well-known duties that are critical for your achievement down the road. You'll also be able to see a clearer picture of your weekly availability and avoid overusing your buffers by taking on too much.
5. Examine the Situation
Dealing with multiple goals at once can be daunting, and it can cause your train of thought to be disrupted for weeks, putting your brain at risk of burnout. Separation from reality and a diversion from corporate goals are frequently at the root of the problem.
Take a step back and rework your plan if you're having trouble with your usual workflow. Look at where you started, where you are now, and how far you've come. If everything appears to be on track, just focus on the results and cross distractions off your list. Otherwise, restructure your calendar to free up more time, increasing your chances of meeting your targets before the end of the quarter.
6. Times and breaks for brainstorming should be taken
Successful entrepreneurs spend more time working "on" the business than "in" it. When you're knee-deep in overlapping activities, it's easy to lose sight of their purpose.
Take regular breaks between tasks and make sure you're on track to meet your goals. Go for a stroll, get some fresh air, and relax for a while – this will also provide you with some creative ideas that you can use at work.
7. Always work on improving your strategy.
There's always space for improvement, no matter how effective your strategy is. Learning never stops for an entrepreneur, whether it's in terms of professional development, business and personal development, time management, or living a better life. Always be on the lookout for things that take too long or need too much attention, and endeavor to optimize or simplify them.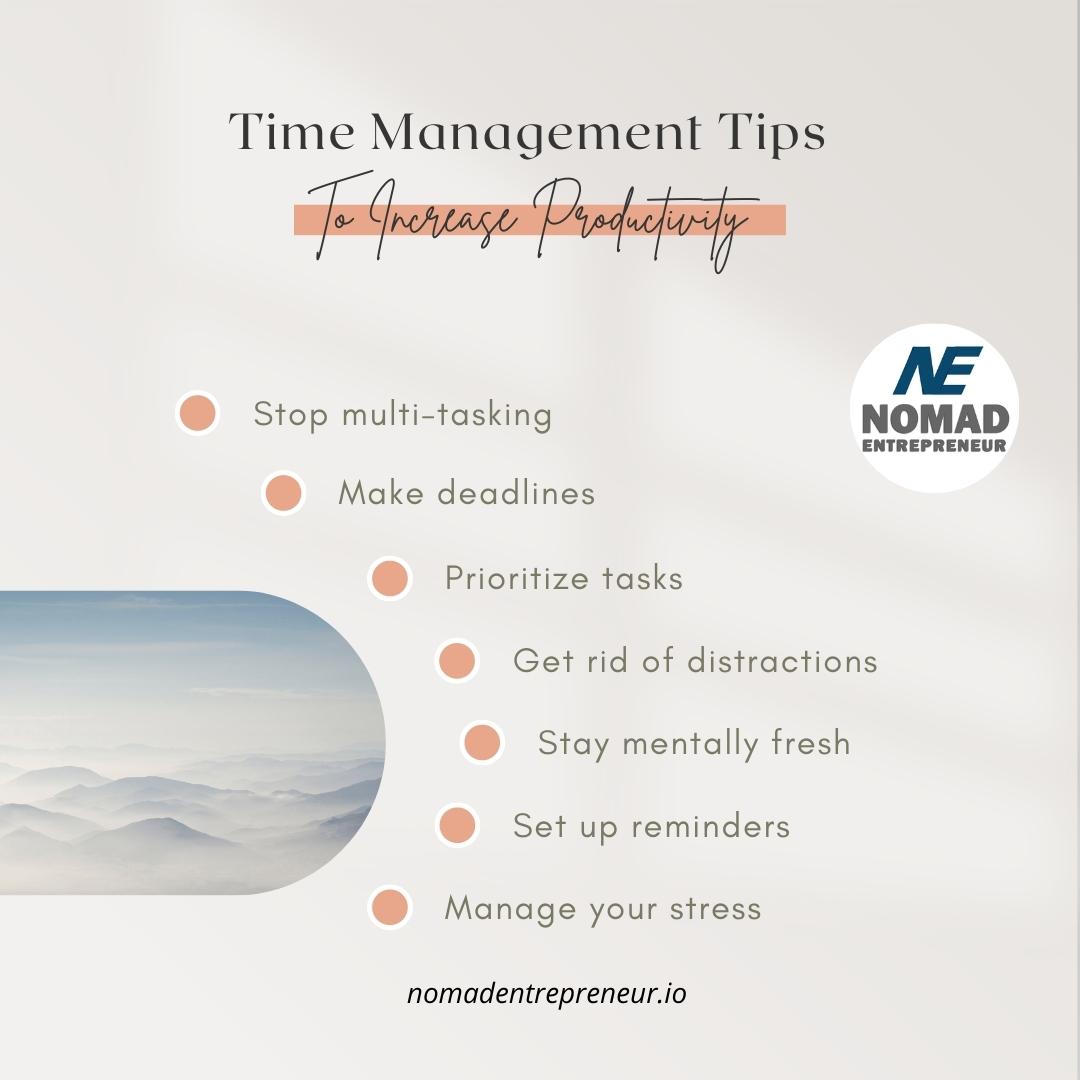 Conclusion
Your business needs you — not an ordinary you, but you at your best. To give it your best, start excelling at time management. Figure out where you are losing time. Ensure that you prioritize your tasks as per their importance, which will help you make the biggest progress toward your ultimate goal: expanding and growing your business.
Remember one thing, your time management skills won't take your time. They will make time for you instead. They will allow you to do more in a shorter time. By now you ought to know the answers to the question "why is time management important for entrepreneurs". Thank you!