It seems like you are planning on moving to Georgia and now you are searching for the best place to settle down in our beautiful country. In this article, we will discuss the best places to live in Georgia, and the answer really depends on YOU.
Who are you? What kind of lifestyle are you living? Are you moving with your family or solo? Are you searching for a place to retire?…
Best places to live in Georgia
Georgia is one of the most unique and diverse countries in the world, and living here can be an amazing journey for people living a busy lifestyle full of adventures, as well as for those who are in search of a quiet and peaceful life.
Living in Tbilisi
No wonder that Tbilisi is the first one on our rankings. Not only is the capital of Georgia one of the crossroads between Europe and Asia, but it offers a very low cost of living by European standards. Tbilisi is one of the world's least expensive cities for expatriates.
Living and doing business is easy and comfortable in Tbilisi. The city is one of the easiest in the world in which to do business, based on measures such as the time it takes to start a company, minimum capital to open a new busines, amount of business-friendly regulations, taxation and customs regulations, etc…
One of the best things about Tbilisi is the way the traditional and the contemporary coexist side by side. Tbilisi's location at the crossroads of east and west makes the city very multicultural.
There are features of the urban landscape and some customs that may seem familiar, but at the same time, peculiarities of Georgian culture, language and religion make Tbilisi truly unique and unparalleled.
Tbilisi is an emerging digital nomad destination. The expat community is primarily made up of remote workers. English is widely spoken, especially among younger generations, which makes it easy to communicate with locals.
Plus, your social network will instantly expand if you learn just a bit of Georgian.
Georgia has an extremely generous visa-free policy that allows more than 95 nationalities to enter the country without a visa and stay for up to one year.
Under this scheme, you can work or study without having to obtain any special permit. In addition to that, it is very easy to open a bank account, you will just need your passport and few minutes.
Another thing that makes Tbilisi so appealing is the climate. Winters are mild, summer can be very hot during afternoon hours, but it is still manageable, spring and fall are by far the most pleasant times of year in Tbilisi.
In addition, every district of Tbilisi has everything you need in everyday life – from grocery stores to shopping centers, pharmacies, banks, etc.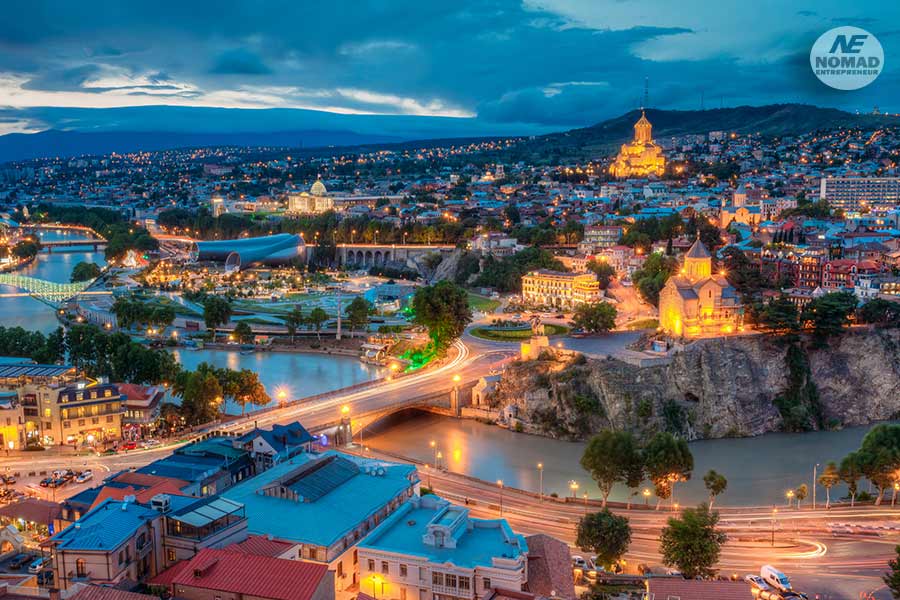 You can check our other article, where we go more in detail about the best neighborhoods and districts in Tbilisi, and see which one fits you the most:
Living in Batumi
As the second largest city after Tbilisi, Batumi is definitely to be considered in terms of a possible option for relocation. It is also called "The Las Vegas of the Black Sea".
Its population is about 150,000 people. Batumi is located on the coast of the Black Sea in the country's southwest.
Always busy during the high season (July to September), Batumi tends to be less active during the other months of the year.
However, it is gradually growing busier even outside of the tourist season, mainly due to the affordable cost of living, an easier pace of life than Tbilisi, and its proximity to the sea. These factors make it attractive to both locals and growing number of expats.
There is a relaxed atmosphere for most of the year. Batumi has relatively modern infrastructure, less traffic, and pollution than Tbilisi, shorter lines in the supermarkets, etc.
The cost of living, including rent, transportation, food and groceries expanses are moderately cheaper than in Tbilisi. Basic taxi prices in Batumi are also mostly lower than in Tbilisi.
English is widely spoken among young people but only in the city. Older people don't speak English but do speak Russian. But, whatever language you use if you smile Georgians will smile too.
Batumi has a humid subtropical climate, so it rains quite often. It is significantly different from Tbilisi in terms of the amount of the rain, but Batumi is also a lot warmer than Tbilisi, even in the winter time. It has a comparatively warm and sunny winter and spring, a hot summer, and a rainy autumn.
You can read more about this amazing city from these articles:
Living in Kutaisi
Kutaisi is a former capital and one of the oldest cities in Georgia, located in the Imereti region. Historically, it was one of the primary cultural centers of the country and was recognized as one of the earliest educational institutions of the state.
It is a place where ancient cathedrals, historic monasteries, well-preserved dinosaur footprints and legendary caves are mixed with futuristic architecture.
Kutaisi is a small-ish city of around 150,000 people. Many foreigners may prefer metropolitan Tbilisi or glittery and touristic Batumi. But Kutaisi is increasingly well connected with direct and cheap flights to many European cities which can be very attractive.
It is big enough to provide the services and infrastructure you really need, yet its cozier and more authentic compared with Tbilisi or Batumi, and you'll certainly find the cost of living (both for tourists and residents) to be far less than that of Tbilisi or Batumi.
Kutaisi has a more authentic feel to it, but you may miss some of the comforts you're used to and will definitely find it more difficult to get by without knowing any Georgian or Russian.
Living in Zugdidi
Zugdidi is Located in the north-western part of Georgia, the administrative center of the Samegrelo and Zemo-Svaneti region with a population of about 75 thousand people and a total area of ​​17 square meters.
Samegrelo is a fascinating part of Georgia and Zugdidi, its biggest city, is in many ways the region's cultural and historical capital.
Zugdidi is the home of the Dadiani Palace, which is the city's most prominent landmark and number one tourist attraction.
Zugdidi has an interesting mix of modern and historical architecture, including socialist apartment blocks alongside traditional Oda houses with fine carved wooden balconies.
Most of Zugdidi's supermarkets, pharmacies and shops are located on or around the main road. Zugdidi's Agrarian Market is one of the largest food markets in Georgia.
Living in Telavi
Like most of the smaller cities in Georgia including Gori and Zugdidi, Telavi has the atmosphere of a big village. It is a fascinating place for fans of architecture and design, loaded with historical and important landmarks.
It embodies everything people love about small cities: It's walkable, it's quiet, there's beautiful architecture around every corner, and best of all there's a lively undercover market in the center of town. Telavi is a place for people who want enjoy quite life.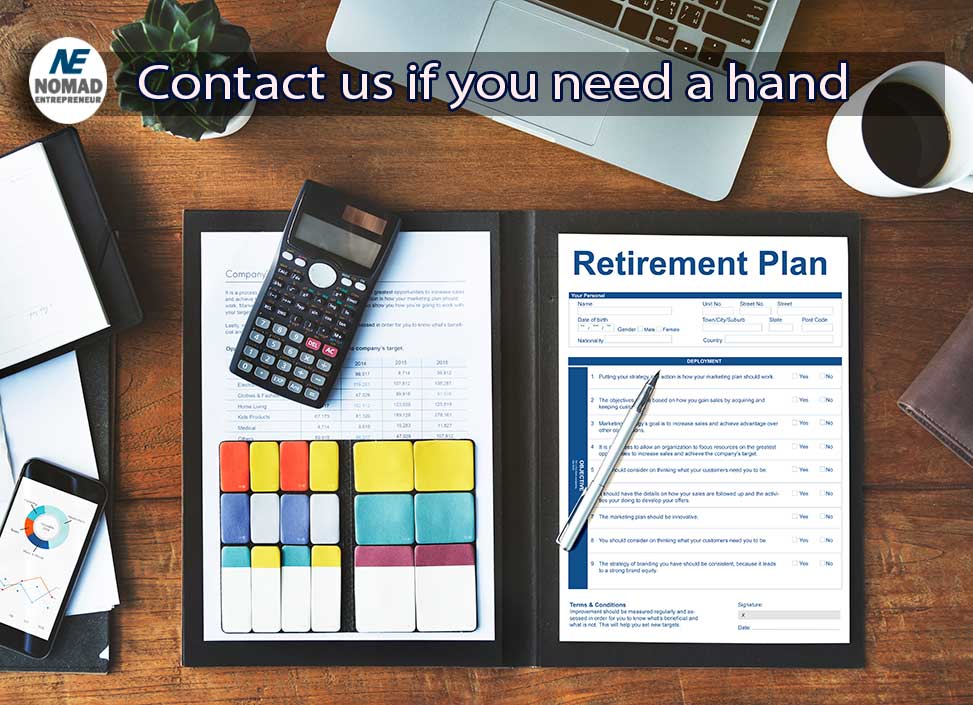 Is Georgia a good place to retire?
If you are thinking about retiring, or you are planning your future retirement strategy, you should definitely consider retiring in Georgia, because the openness towards foreigners combined with low and simple taxation regulations makes it a great choice for retirement.
When thinking about the benefits of retiring in Georgia there are a couple of things that instantly come to mind: nice weather, a laid-back lifestyle, and a low cost of living.
It makes Georgia one of the best retirement destinations in the world. In 2021, Chicago-based company NetCredit published a study on the cheapest and most expensive countries for Americans to retire. Based on the study's results, Georgia is the cheapest country in Europe for retirement. According to NetCredit, average American would need $215,911 for 14 years to maintain the aforementioned lifestyle in Georgia.
The study describes Georgia as "a beautiful country with a rich culture and history and a retirement cost of $215,911 – just over one-third of the US price".
One of the factors, which is considered in calculating the cost of living, is the affordable cost of housing. The real estate market in Georgia is affordable and diverse.
You can find all sorts of properties in Georgia from lush suburbs to high rising apartments. Relatively cheap cost of real estate property, as well as low monthly rental rate, makes buying or renting retirement property in Georgia a great idea.
Plus, overall crime rate in Georgia is very low, and it is considered one of the safest countries in the world. It goes without saying, that while choosing a retirement destination, one must think about the healthcare system in the country.
We are proud to say that Georgia's healthcare system has undergone effective reforms that have improved health indicators and narrowed the gap between Georgian and European standards. Today, with the use of high-quality medical equipment, well educated, and experience doctors, as well as the low price of medical services, Georgia's healthcare sector aims to become the healthcare hub of the Caucasus and Central Asia regions.
You can read more about Georgia's healthcare system and heath insurance from this article:
Best place to live in Georgia for expats
If we would need to choose one city in Georgia which is the best to live in for expats, it would be Tbilisi – the capital and the largest city in the country.
It is not surprising that most expats live here. Tbilisi is arguably also the only city where can find most "western-style" amenities without issues, as well as the largest number of people in the county who understand and speak English language at a high level.
Is Georgia safe country?
Overall, Georgia is an extremely safe country with a very low crime rate compared to large European and American cities. In the 2022 International Crime Index, Georgia ranks 14th in the world in terms of safety.
Burglaries and pickpocketing are rare, and foreigners are hardly ever a target for violent crime. But still, you should exercise the same caution and common sense you would in any other country.
Best place to live in Georgia for women
When it comes to choosing a best place for a woman to live in Georgia, the main focus is, of course, safety.
As we said, Georgia is considered a safe country in general, and it includes attitude towards women as well. But, still we would advise a woman to live in the capital of Georgia – Tbilisi, just because people living in Tbilisi are usually more open-minded, liberal and respectful towards women, so there is a less probability that you would find yourself in an uncomfortable situation.
Best place to live in Georgia for families
Are you thinking about moving to Georgia with your family?
Then you are probably choosing the city to live in depending on where you would find best schools for your children, so that they can have an access to high-quality education.
In that case, our advice would still be Tbilisi, because this is a city with the largest amount of international schools. There are many high-quality international schools in Tbilisi, where your children can get ready to tackle the challenges of continuing higher education and entering the world of work, while being equipped with the knowledge, skills and competence required to succeed in further studies and career.
Best place to live in Georgia for tourists
If you are a tourist and want to find a place where you can live during your stay in Georgia, but also be able to visit many other cities and places in the country, we would advise to choose Tbilisi, because the capital city is full of many fast and affordable transportation means, including train, minibuses called "Marshutka", taxis, etc.
All of which will give you opportunity to waste as little time as possible on the road, and be able to visit incredible places near Tbilisi, such as: Mtskheta, Tsitsamuri, Kojori, Tskneti, Kiketi, Vashlovani, Krtsanisi, martkopi, Ujarma and many more.
Living in Georgia for children
Children – they are the most precious creatures we have! That is why it is necessary to take care of them and work hard to make their lives as good as possible. The smiles and happy faces of the little ones are the greatest wealth in this world. Child Protection Day reminds us once again that every child should have a fun and happy childhood!
Yesterday, Georgia celebrated international children's day with many activities, parties and festivals. As you know, the first day of summer – June 1 – is International Children's Day. This holiday is celebrated all over the world and of course, Georgia is no exception. In Georgia, the holiday is usually celebrated with concerts, exhibitions and other events dedicated to children; Charity events are held. On this day everyone especially tries to help orphanages, sick, disabled children, homeless, needy families, large families. Everyone tries to give them presents, make surprises and improve their lives at least a little bit.
What challenges has Georgia faced over the years?
Georgia, which is located in the Caucasus region, has experienced years of cruel armed conflicts. If we look at the recent history of Georgia, due to its geographical location, it has always been in a problematic situation. The main thing is that Russia has caused armed conflicts many times since 1990, as a clear example of which is the 2008 Russia-Georgia war. After these difficult periods, many problems arose in the country, they were financial, social, economic, political. Consequently, due to the caused difficulties, the rights of children were also quite weakened and left out of focus for some period. Hopefully, we can say that now everything is changing.
No one argues that because of abovementioned political crises, children have suffered enormously and although their situation is now improving, it shows that certain people sometimes are still ignorant of their rights. Even now, some people live below the poverty line. However, poverty affects the population [RE1] unevenly, as it depends on where they live. All the same, the country has had much economic progress, which has considerably reduced poverty and increased children protection stability.
What development has Georgia achieved over the years?
Fundamental problems and challenges in past 10 years were faced in Georgia's child welfare system, which have grown particularly visible in past 5 years. These problems were highlighted by the Public Defender[RE2] . Any research you should not look for points to an improvement in children's rights. Undoubtedly, Georgia is on the main path of development in this regard.
Numerous local and international organizations are working to improve the rights of children in Georgia. The United Nations Children's Fund (UNICEF), [RE3] through all its actions, supports the protection and well-being of all children. Together with partners, they work in 190 countries and territories to put commitments into practice, with a special focus on the most vulnerable and excluded children, for the well-being of all children, everywhere.
What is the situation now here in Georgia?
Despite the steps taken by the state to fulfill its international and national obligations, the standards of child rights protection in our country are not quite the same as central European countries have. There are some challenges in terms of child protection, when they do not have families. However, hopefully government and private sector is trying to develop actions to provide children quality living conditions and protect their lives. For that many legal changes have been made, which follows country's path of development. Despite many challenges, there are many prestigious and quality kindergartens and schools in Georgia in which you are guaranteed that your children will treated with kindness and love, intelligence and respect.
What has changed in the new code of children's rights?
In order to improve the situation and bring it closer to the European level, ა new code of children's rights has come into force today on September 1, 2019 to protect, develop and improve the life of children in Georgia. Here are important changes the parliament made:
Disposal of real estate owned by a child by his parent or other legal representative may occur in the best interests of the child, with the consent of the court;
Children under 18 will receive free legal aid ;
All government agencies are obliged to provide a friendly and adapted environment for children where they will be served by public servants specialized in child protection;
In extreme cases, the separation of a child from a family is decided only by a judge;
The state is obliged to provide socially vulnerable families with financial assistance;
Parents have the opportunity to appeal to internet service providers to restrict access to websites that are dangerous for children;
Websites that display movies, animated films, TV series, and games are required to show special age markings for programs which are inappropriate for minors under 18, 15, 12 and seven;
TV companies are obliged not to broadcast inappropriate programs for minors under 18 from 6 pm to midnight, for minors under 15 from 6 pm to 11 pm; 6 pm to 9 pm for a minor under 12 years;
What children can have or can do in Georgia
Georgia and Tbilisi can be characterized with many fun adventures for children. Here you will meet Mtatsminda and Dedaena parks, you will see many cinemas and swimming pools, you will enjoy the horse-riding place and bicycle paths. Tbilisi offers several theaters for art lovers; you can also enjoy the greatness of the opera and the abundance of museums. You can visit many museums in Tbilisi, such as the Museum of Illusions[RE5] , the National Museum[RE6] , Tbilisi History Museum, [RE7] the Museum of Love and others.
As mentioned before, cinema is one of the most entertaining activities for young people. There are many people who love movies in Georgia, that is why, on Wednesdays, this specially chosen day, a special offer is imposed. Each ticket costs only 5 GEL (National Currency), which is about $2. Those who are obsessed with sports will not really get bored in Georgia. In a hot summer, or warm autumn days you can take a walk around Turtle lake or Lisi lake, which are easy to arrive.
Children Education
Quality education[RE8] is under development of both individuals and societies, helping to pave the way for a successful and productive future. Despite significant achievements in recent years, the Georgian education system continues to face developments. In partnership with the Government of Estonia and Poland, UNICEF support the Government of Georgia in strengthening the quality and inclusiveness of Georgia's national education system. This partnership aims at designing and introducing Bachelor and Master programs in nine Georgian state universities for pre-service training of pre-school and secondary school teachers.
As a result of this partnership, children in Georgia will acquire skills and competencies needed to thrive in a fast-changing world of globalization and technological advancement, and will have equal access to educational innovations.
While deciding to live in Georgia, you will find many high-level schools in Tbilisi, where children are taught using modern methods and have the best graduates. You can choose one from best schools in Tbilisi: St. George's British-Georgian School[RE9] , German international school in Tbilisi[RE10] , American International School "Progress", [RE11] KOMAROVI school, [RE12] school ALBIONI;[RE13]
When you come to Georgia, you will find many wonderful kindergartens and schools for your children, knowing they will be treated kindly and friendly. We hope you liked this article. If you have any questions or if there is a specific topic that interests, then leave a comment below and we'll write about most requested topics for you.
---
[RE1]https://www.humanium.org/en/georgia/
[RE2]https://phr.ge/documents/Report%20Card.pdf.pdf
[RE4]https://agenda.ge/en/news/2020/2690
[RE5]https://www.museumofillusions.ge/en/
[RE6]https://museum.ge/index.php?lang_id=ENG&sec_id=44
[RE7]https://museum.ge/index.php?lang_id=ENG&sec_id=47
[RE8]https://www.unicef.org/georgia/general-education
[RE9]http://bgs.edu.ge/en/home/
[RE10]https://deutscheschule.ge/de
[RE11]http://progress.edu.ge/en/
[RE12]https://komarovi.edu.ge/en