The real estate market in the capital of Georgia Tbilisi is one of the key factors why investors are interested in the destination. However, the question might arise: Is the real estate market in Tbilisi growing? What are the predictions? Numerous advertisements and articles might catch your eyes by suggesting only advantages of investing in real estate in Tbilisi, Georgia, this might lead you to a very bad experience. In the following article we will provide relevant facts and real numbers for you to help analyze the market and make decisions based on knowledge.
The Impact of Covid-19 on Tbilisi real estate market
Real estate market has deteriorated due to Covid-19 and right now it is slowly adapting to the changed circumstances. In comparison to the first quarter (Q1) of 2020, the real estate market contracted significantly by 45.5% in Q2 2020 while the annual decrease was observed at 53.6% compared to Q2 2019.
However, developers and private investors are not rushing to drastically change the prices and are adapting to the changed reality. The price volatility is higher in central districts, while remains relatively stable in suburbs. The market is divided into different segments and so is the supply-demand tendency.
Aspects of the pandemic impact on the market
There is no doubt that Real estate fundamentals have directly been affected by the pandemic. In The current situation, risk provision positions in particular are rejected in expectations for the real estate markets: the increasing probability of default of commercial and residential rental income can affect all participants in the value chain and ultimately reduces the earnings on the real estate investment market. Private or commercial tenants as well as landlords are just as affected as project developers or investors.
The impact of the lockdown on Tbilisi real estate market
In April and May, after the lockdowns, apartment sales drastically declined. However, since June, the market started to gradually recover.
In the 2nd quarter of 2020 the residential real estate prices of per square meter in Tbilisi districts looked like this:
Mtatsminda – $ 1,346 ;
Vake – $ 896;
Saburtalo – $ 790;
Nadzaladevi – $ 585;
Gldani – $ 561.
To have a better understanding of these numbers, we should talk about the bigger picture, do the analysis and consider that real estate has different sectors and all of them together create the market. Georgia's transformation from being an under-developed soviet country and to solid economic growth was mainly supported by the development and construction of real estate in the country – nowadays, real estate is the third largest sector of the Georgian economy, accounting for 11.4% of GDP in 2018. More information about Tbilisi neighborhoods and district in this article > detailed look at Tbilisi neighborhoods
National currency inflation as a result of the pandemic
The most brutal impact of Covid-19 came to the inflation of the local currency, which led the economics to dramatic condition. Annual inflation remains high since March. Based on current forecast inflation is expected to decline gradually due to weak demand and will converge the target rate of 3.0% in the beginning of 2021. National Bank of Georgia with coordination to the government, is trying to ease the situation in terms of increased uncertainties and subsequent risks, but the crisis is obvious. Decrease of GDP is also dramatic in the country, however the positive forecast has been made, but under the pandemic circumstances, it is really hard to predict anything.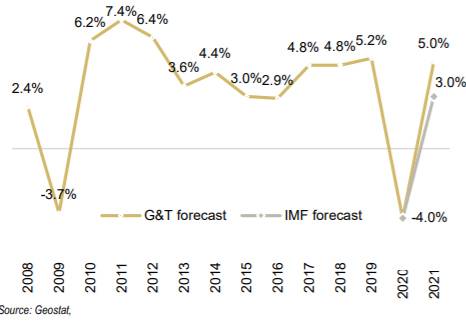 General quarantine in Georgia was enforced in the second half of March 2020. Apartment sales decreased that month – 37.6% decline compared to the first half of March 2019. Covid-19 outbreak deteriorated the market. However, the residential sales are still promising. Starting from March, the residential properties have been sold mostly in the suburb areas. Out of the top 5 districts by sales, the four were suburban areas — Gldani, Samgori, Isani, Didi Dighomi — accounting for half of total residential sales. In the series of upcoming economic changes, in March 2020 prices were surprisingly up compared to February, ignoring the economy. The prices are segmented.
For example, during spring 2020, new apartment prices were increased 1.0% m/m in USD terms and 3.8% m/m in GEL terms, while old apartment prices were up 1.9% m/m in USD terms and 6.0% m/m in GEL. However, prices were still down 5.4% y/y compared to March 2019 when there was a real estate boom in Tbilisi for objective reasons. It is expected that mortgage regulations and stressed purchasing power of consumers will further lift the share of suburban sales in the nearest future.

The impact of Covid-19 gives us interesting flashbacks back to 2008-2009 years and helps analyze the predictions we could have regarding the real estate market.
Flashback — 2008-2009 crisis time
It is a fact that real estate is one of the most vulnerable sectors during economic crises. In 2008 Georgia was dealing with two crises : August war with Russia and Global Financial Crisis.This hit hard construction and real estate sectors over 2008-2009. Back that time annual construction turnover declined by 12% and took almost 3 years to go back on feet. Prices in USD dropped by 34% y/y, while prices in GEL were down 27% y/y. The August 2008 war gave the country 30,000 internally displaced persons with a need of housing. The Current Economic Crisis in Georgia has not reached the scale of the 2008-2009 Crisis In 2008: real estate prices were at record high levels. Taking into account the stable prices on real estate between 2009-2019, Georgia has a potential to recover from the Covid crisis.

Residential Real Estate Market in Tbilisi
The urban population is growing in Tbilisi on a daily basis, urbanization growth indicates increased demand on housing. As for foreigners, they mostly buy apartments for investment or long-term residence purposes.
Residential real estate sales experienced record-high growth in 2018 before cooling in 2019. Back in 2018 sales accelerated prior to the mortgage regulatory changes. Prices have been stable in the USD in recent years and as the experts say, there are no signs of a housing bubble in Tbilisi.
The market should be seen from the perspectives of supply and demand. Recently adopted regulations are shifting active residential development from the city centre to suburbs. On the demand side, it is believed that the fundamentals (growing urbanization, declining household size, etc.) guarantee stable sales growth in the long term.
Naturally, pandemic breakout affected residential real estate as well. However, Apartment sales patterns remained unchanged in the 1st quarter of 2020.
Tbilisi real estate market segments
There are a few segments on the residential market: new apartment segments, old apartments and of course the different range in size of the apartments. However, to create a general picture, we can say that the low-middle-income households drive demand on the market. In the 1st quarter of 2020 53% of the sold apartments were sold in the low-price segment. In contrast, only 12% of the total sales came to the premium segment.
Yields are high and stable but are expected to gradually decline. The rent market is supported by Airbnb and right now, the lack of international visitors temporarily detached the sector. Watch the below video for important tips before buying a real state in Georgia.
Residential market in Tbilisi comparison
Tbilisi is considered to be the cheapest real estate market in its peer group – the apartment price per square meter is 2.5 times lower in the city center and 3.1 times cheaper in suburbs, compared to the average prices in the peer cities. This is the result of the weakly regulated environment – until recently (2018) there was no Master Plan, or strict safety and other construction regulations, which kept the whole construction costs, and thus prices low.
In order to assess the affordability to buy a medium-sized (65 m2) apartment, it takes 7 years on average salary to buy an apartment outside the city center in Tbilisi and approximately 13 years to do the same in central districts.This would take you 20 years in Kiev. The most affordable housing for the average worker is found in Athens, requiring only c. 6.5 years of annual salary, however, we should not forget that the average salary in Greece is 4 times higher than in Georgia.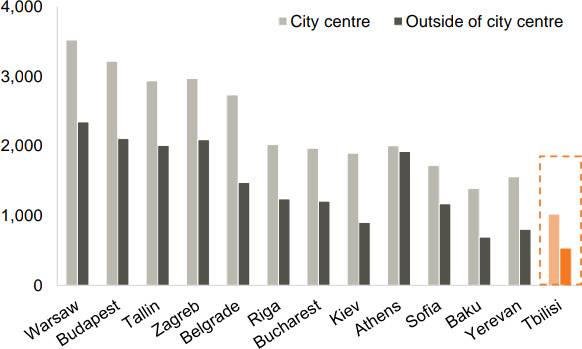 Commercial Real Estate in Tbilisi, Georgia
Commercial estate prices are generally high in Tbilisi. However, high pricing is logical when modern leasable offices are only 22% of total commercial space. While Tbilisi lacks modern offices, landlords of these modern real estates are given great opportunity to increase rent prices.
High rent prices make wealthy firms buy their own office spaces, rather than lease them. Because of this and two other factors, Tbilisi is quite different from peer Cities in Central Europe and Asia. Nonexistent Central Business district is another unique characteristic of Tbilisi commercial life.
Business sector is markedly concentrated in Tbilisi. 74% of Georgia's commercial spaces (especially offices) are located in Tbilisi. 6% is established in Adjara, 5% in Imereti, 5% in Kartli and 10% in other regions of Georgia. Adjara not so low percentage of commercial spaces is partly in connection with Batumi, which is in the heart of the residential boom along with Gudauri and Bakuriani.
Central Business Districts in Tbilisi
Central Business District existence would be good for a variety of reasons, but nowadays, low pedestrian traffic makes it impossible for this kind of establishment to exist. It's quite uncomfortable and unprofitable for high class business centers to hire commercial spaces on high streets , because of already mentioned low pedestrian traffic and nonexistent parking lots, but one A class business center is already functioning on Chavchavadze Avenue, which seems promising for other high class business centers and for Tbilisi's high streets.
When we talk about retail stocks in Tbilisi, we should consider that 46% of total retail stock are open air bazaar's, while modern shopping centers are about 24.6%. Meanwhile, according to the current tendency in Tbilisi, customers are gradually shifting from open air bazaars to modern shopping centers like City Mall.
Hospitality business in Tbilisi
When it comes to hotel real estate, Tbilisi has been notably active for hotel investments in recent years. The city had 492 registered accommodation units. From 2015 to 2019, the number of rooms doubled in hotels, but it is forecasted that 2020-2021 will be game changing in this segment because of reducing prices.
Development land sales are growing steadily in Tbilisi promising stable supply. Meanwhile, development land prices in suburban areas like Dighomi are notably rising.
Regulatory changes in Georgia's commercial development are oriented towards safety standards. Companies are required to build in standard and provide safe working conditions for employees. Quality control on construction metals is also in connection with safety standards provided by companies and landlords in general.
According to researchers, it's considered that one should earn at least 1600 GEL to afford a flat in Tbilisi's suburban areas. Mortgage prices proportionally increase with central districts. Nowadays, the lowest pricing is noted to be in Samgori district.
Residential and Commercial Real Estate Market Drivers in Tbilisi
Real estate market in Tbilisi has a few main drivers, among which are:
Growing rate of urbanization — population has a demand for housing;
Investment and migration — foreigners buy apartments in Tbilisi mostly for investment purposes. The share of sales to foreigners of apartments sold in Georgia stood at almost 25% in recent years.
Outdated housing stock — Most of the housing stock was built during 1961-1999 and only 24% of Tbilisi's existing apartment stock has been built since 1991. So called "Khrushchyovkas" are good examples of redevelopment opportunities in the central districts. Developers have a chance to make a good investment into the replacement of these kinds of houses with the modern households.
Tourism — together with real estate, tourism is one of the biggest drivers in a country's economy. Tourism indicates demand for rental properties, shopping and entertainment facilities.
Which Area has high rental yields in Tbilisi, Georgia?
Rental sector in Tbilisi is an interesting opportunity for real estate investors. Strong rental demand, low supply and high yields determine the pros of the field.
The affordable prices of the properties allow you to have a good rental yield. The average rental yield in Tbilisi is 12 %. However, with a good location and a proper marketing, you can raise the numbers up to 15% gross or even more.
Under normal circumstances, rental supply in central districts is mostly absorbed by Airbnb. Central areas are not affordable for local people, while the number of expats, who rent flats in central areas, is limited. However, vacant flats are not pressuring the long-term rental market in Tbilisi. Many flat owners are waiting for the conditions to improve. This helps rental yields to remain high in Tbilisi compared to many cities, ranging from 8% to 10% by districts.
Where do locals rent in Tbilisi?
Locals rent apartments in suburb areas of the city because of lower prices. Approximately, rental cost in suburbs is 2 times lower than in central parts of Tbilisi.
For example, old Tbilisi is full of old but beautiful houses with perfect touristic locations. Those houses have been reconstructed, renovated and now attract real estate investors with the perspective of high rental yields.
Another location with promising numbers of rental yield is Vake-Saburtalo. Most of the universities and offices are located in this area. The new "Tbilisi Central Park" project is being implemented in Saburtalo district as well, which might bring some extra points to the yields there.
Which area of Tbilisi has the cheapest prices?
Through the time and years real estate property prices change. However, the tendency of price difference is still stable.
We already mentioned that Airbnb plays a certain role on the market. However, Airbnb pushes prices up only in central districts – Mtatsminda, Vake, and Chugureti. However, these three districts cover only 12.4% of total sales and don't have a significant impact on overall price range. Meanwhile, growth of prices in Saburtalo district is affected by elevated demand from locals as well as massive household projects from M2, Axis, etc.
Average selling central districts (Vake, Saburtalo, Mtatsminda) roughly vary from 850 USD to $1400 per square meter, while the price range in the suburbs (Isani, Gldani, Nadzaladevi, Digomi) is about 550 – 750 USD.
Price difference between black frame and white frame new apartment is approximately 186 USD, while difference between black frame and turnkey stands at 343 USD per square meter.
The same tendency goes for the rental cycles around the city. If you are not sure in which area should you invest read this article: Where to invest in real estate in Tbilisi

Conclusion
To sum up, the real estate market in Tbilisi is under the series of Covid-19 impacted economic changes. The prices are still on a reasonable level. However, the price trend indicators might be monthly changing as the pandemic outbreak is booming these days. As the experts predict, the post Covid-19 recovery is going to be quite a slow and painful process for most of the real estate sectors. However, the pandemic period might be the indicator of the market resistibility.
If you are interested to know more about real estate in Tbilisi, read this article: Should you invest in real estate in Tbilisi?
If you are wondering about the Las Vegas of Europe, The beautiful city of Batumi then you must read this blog post: Breaking through real estate investment in Batumi
Thinking of doing business in Tbilisi, Georgia? Read this article about: 6 Successful Businesses in Tbilisi The Capital of Georgia
Reading this article is a must if you want to move to Georgia.
Sources: