Georgia is a country located in the middle between Asia and Europe and represents a bridge between these two cultures. It's hard to find it on the world map but it's well-known and famous for its authentic wine, food, tourism, Georgian hospitality and beautiful capital city – Tbilisi.
Tbilisi is the biggest city and a political heart of Georgia with lots of neighborhoods, streets, districts and avenues. Its streets are full of different buildings which will amaze you with their architecture, restaurants, bars, shopping centers, hotels, cafes and other places like park with fountains, gardens, where you can just take a walk on a fresh air and relax.
The city is quite modern and fully equipped with everything that is needed in this century.
How old is Tbilisi?
Tbilisi is a city which was built in the 5th century and where every neighborhood, district and street has its own history so once in here you should do walking tour and sightseeing around the old part of the city to feel and explore more about its history. You'll come across the historical sites like Metekhi Church, Vakhtang Gorgasali statue, sulfur baths, Narikala fortress and many more. You may also find backstreets with hidden treasures like old buildings, wooden halls which look like art from the previous century. You may get lost while wandering between.
According to a legend Tbilisi was founded in the 5th century by Vakhtang Gorgasali who accidentally found hot springs in the neighborhood which is now called Old Tbilisi. He liked the place so much that decided to make it a capital and call it Tfilisi which was the original name of the city and in Georgian means 'warm'. Previously, there had already been a settlement in this town which had no name.
Is Tbilisi a good city to live?
This thriving and innovative city is well-known for its low living costs. Though quality of life might not be at its best but still it's an excellent choice to move in Tbilisi as it will decrease your daily costs of living and it's completely worth it. It is a good place to live in as it's really trustworthy in terms of safety and has high ranking in accommodations, business and freedom. Costs are low especially in the housing market and it must be one of the most contemporary, affordable capital cities in Europe and it's accordingly equipped for the digital, modern age. Also, every neighborhood of Tbilisi has everything you need in your every day life – from grocery stores to shopping malls, banks etc.
Is Tbilisi a good place to work?
Georgia is a city where everything is affordable, therefore it's really quick and easy to start your business here as it's a very business-friendly country.
If you need some working space there is a wide range of choices which are displayed on the website coworker.ge. The website offers you comfortable and affordable workspaces like Terminal, Impact Hub Tbilisi, Space Z, Fabrika, Collective etc. where you can hire an office with a room or two in the central neighborhoods.
Restaurants, cafes and nightlife in Tbilisi
Tbilisi is an active city and Georgian community likes to spend evening in a pleasant atmosphere. If you like to live like a bohemian here are many activities to do starting from restaurants and cafés to nightclubs, bars and casinos. If you want to taste and explore local traditional culinary then you should visit some local restaurants. Do you want to go to a bar? – there are a lot of places where you can go in the evening and have a cocktail, beer, a shot of Vodka or a glass filled with Georgian wine – the choice is endless. Bars are mainly located in the most famous neighborhood of the city – Sololaki
If you love nightlife and look for places to go on weekend there are some nightclubs for you as well. The most well-known clubs are Khidi and Bassiani where you can attend a techno music concert.
Outdoor life in Tbilisi
Tbilisi is a developing city and besides bars and restaurants it offers its citizens active and healthy life – those who like to keep their body fit go to the swimming pool, gyms, tennis courts, football pitches etc. which you can find almost in every district. Speaking of sports there are two main stadiums – Boris Paichadze Dinamo Arena which is located on Tsereteli Avenue and Mikheil Meskhi Stadium in Vake where football lovers can support their favourite team. You will also catch a glimpse of people who train themselves by running or walking in parks, gardens and around Tbilisi lakes.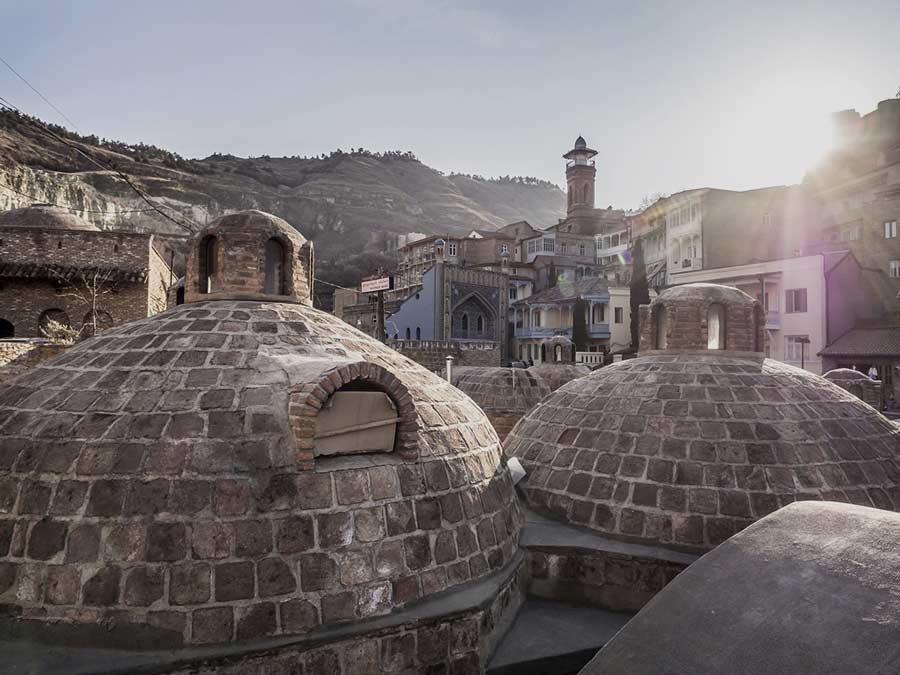 Historical neighborhoods of Tbilisi
Speaking of Old Tbilisi, we should mention that though it's mostly a touristic neighborhood, it's also unique due its multicultural and multi-religious characteristic. Here you can find four different religious spots: Orthodox Church, Catholic Church, Synagogue and Mosque – it is a good example of different people's culture fusion.
If you are a tourist visiting Tbilisi and looking for a hotel to stay at, then you should look for one which is located in the streets of the old town. Staying in the downtown will show you what everyday life of local Georgians look like.
Abanotubani – district of baths – is the historical neighborhood of Tbilisi, this is the central Old City which mainly hosts foreign guests and tourists and where the popular sulfur baths are located. Nowadays it's a complex of modern and ancient architecture, you'll find old-style houses with balconies which were very popular in the middle centuries.
There is a square called European square which is near Rike Park. From here you can take a cable car up to the top of the hill to the Narikala Fortress and see the Mother of Georgia. The view of the Old Town and the rest of the city in front of you are spectacular.
The tourists and foreigners that once visited Tbilisi and spent unforgettable time there, still want to go back.
Sololaki is a neighborhood near to the city center and to the historic part as well. This district of Tbilisi is nouveau and typical Tbilisi-style at the same time. It starts from Freedom Square and goes up to Mountain Mtatsminda. This peaceful and friendly neighborhood is where you can find lots of historical buildings, narrow streets, old-style vintage art houses with balconies, wine bars and sidewalk cafés. If you want to stay at a hotel for a reasonable price, you'll find a lot of boutique hotels here.
Mtatsminda neighborhood or a 'Holy Mountain' is one of the largest neighborhoods of Tbilisi. It has a lot to offer, especially your own piece of land with a private house. You'll want to reach the top of this mountain that gives the district its name. You can get to the top on the Funicular and its restaurant which offers you stunning and gorgeous views of the whole city.
Avlabari is a neighborhood which was historically inhabited by Armenians and still many people of this nations live in this district. This fact once more underlines the multicultural character of the city. One of the oldest districts of Tbilisi is located on the left bank of Mtkvari (also knowns as Kura) river in Old town. Some main attractions in Avlabari include the Armenian Theater, Metekhi Church and the Sameba (Trinity) Cathedral.
Central neighborhoods, districts and avenues of Tbilisi
Saburtalo is mainly a residential district in Tbilisi. But, if you want to stay somewhere calm and quiet and at the same time close to plenty of grocery stories, supermarkets, shops, restaurants and parks — it's an excellent choice. You have access on metro, bus every kind of transport. There are many clinics and medical centers in Saburtalo. There is a metro station almost in every spot of this district so you can easily reach it from any part of Tbilisi.
The favorite spot for locals is Lisi Lake, where you can get away from the hustle and bustle of this district…
There is a district called Bagebi which is connected to Vake. From here you can take a route up to the hill and reach a lake called 'Kus Tba' or a Turtle lake how Georgians call it.
Vera and Vake — very popular neighborhoods of Tbilisi, and they are close to the city center. Here you can find lots of expensive hotels and boutique hotels as well with high standards, very popular restaurants, cafés,
Vake is the trendiest and urban-style district in town. If you like to eat and drink, shop in clothing boutiques and have a walk in the park – it is the best choice for you. There are different kinds of restaurants – from Georgian to Japanese, fast food spots, shopping areas, two main green parks – Mziuri and Vake park. Also, it is very close to the Rustaveli Avenue but before you reach Rustaveli Avenue.
Rustaveli avenue is mostly considered as a hotspot because it's an avenue where many public protests take place every year. It is known for its governmental, public, cultural, and business buildings that are located along the avenue. Among them are the Georgian National Opera Theater, the Parliament of Georgia building, the Georgian Academy of Sciences, the Rustaveli State Academic Theater, the Georgian Museum of Fine Arts, Simon Janashia Museum of Georgia. Here are many beautiful and stylish buildings on Rustaveli Avenue; among them is the Tbilisi Opera House which is known for its beautiful architectural style and some luxurious hotels Courtyard Marriott, Baltimore, Rooms where you can enjoy your stay while in Tbilisi. The avenue is full of various spots including cafés, shops, restaurants, malls and other entertainment places. To sum up, it's one of the central avenues of Tbilisi where tourists love to be.
Watch my video about my experience living in Rustaveli avenue and Georgia for 3 years
Freedom square is located in the center of Tbilisi at the end of Rustaveli Avenue and at the same time is the crossing point of two most interesting neighborhoods of Tbilisi – the Old town and Sololaki district. The name of this square has historical connections to the protests and events that happend here while Georgian people were fighting for freedom.
Marjanishvili avenue or Aghmashenebeli is one of the main neighborhoods in Tbilisi, which was previously named Plekhanov Street after the Russian revolutionary Georgi Plekhanov. It is mostly known among tourists for its hostel which has several restaurants and bars at the same time when you can go with your friends in the evening and have some good time in a pleasant atmosphere. This place used to be a sewing factory in the past century, during Soviet times and many other factories existed back then as well. Now its name is Fabrika, because a factory in Russian language is called like that. It's one of the most popular hotels where tourists like to stay.
Marjanishvili street is also known as a street where Turkish restaurants and Arabic shisha bars are located. You will find a lot of people of different nationalities and from different countries as it is one of the main tourist places as well.
Tbilisi Neighborhoods which are far from the city center
Tbilisi like any other city in the world has neighborhoods and districts which are located quite far from the city center and aren't touristy. In this case such neighborhoods can be: Varketili, Moscow Avenue, Vazisubani, Nakhalovka, Gldani, Mukhiani, Dighomi, Temka the Sea district which are far less expensive than the above-mentioned ones which are mostly for foreigners. But if you are looking for cheap accommodation with lower price then you will easily find some in these districts but you might spend a lot of time getting to the city center. Fortunately, Tbilisi has different kinds of transportations, especially metro which might help you to reach any destination you want. Metro station are almost in every part of the city which can get you anywhere very quickly and easily. If you aren't happy to use metro, then you can get on a public transport — a blue bus or a yellow minibus called 'Marshutka'.
Conclusion
Like any other city Tbilisi has its own pros and cons.
Prices are a bit lower than in any European city, it's easy to afford an accommodation, to shop in supermarkets or anywhere else. It's pretty like a modern city with lots of places to go and lots of things to do, you can have free Wi-Fi in the streets and there is a big choice of public transportation. But you should be aware that the city is too small for a population over one million which causes crowded transport and streets in a rush-hour.
If you are planning to travel to this beautiful city, don't forget to take a photograph and make memories.
If you are planning a retirement in Georgia, Make sure to read this article:
Should YOU retire in Tbilisi, Georgia [Pros & Cons]
If you are a digital nomad, This article is very helpful:
Living in Tbilisi as a digital nomad
If you are wondering about how to settle in Georgia, Read this article: